Auburn Valley Golf Club Wedding Pictures
Auburn Valley Golf Club wedding pictures of the back of a newly married couple walking away for the ceremony site after their nuptials had ended. For some reason I'm always drawn to taking photos of the newly married couple as the walk by me and away from me. I even though you can't see their faces I usually come away with some amazing photographs of them.
Auburn Valley Golf Club is nestled in the Sacramento foothills just on the outskirts of the old gold rush town of Auburn California. You'll have to venture out into the rolling hills to arrive at the scenic golf club and wedding event center. The Auburn Valley Golf Club is surround by nature and the oak tree forest of the area.
The club house is where your getting ready on the day of your event take place at. There's a girls and guys locker room and this is the location where the bride, groom and bridal party can get ready and relax at.
The outdoor ceremony location is located just down the way from the club house. It's within a short walking distance or a quick golf cart ride to access the ceremony venue. It's nestled on a terraced hillside amongst the oak trees. Your guest will be seated on a well manicured lawn. Most wedding ceremonies take place up on terraced patio that is just above the lawn. This location is set up perfectly for photos with sun backlight the couple and bridal party at all times. Later in the year the ceremonies will take place in the open shade.Once your ceremony is done the lawn and oak treed backdrop is a perfect place for family portraits and bridal party pictures.
Once your done with these formal pictures you can use the ceremony site for your bride and groom photos along with access to all of the 11 hole of the golf course. There are many photo opportunities on the 11 green including one of the many ponds on the course for a backdrop. Once your finished with your photos your family and friends will be awaiting your arrival back at the club house.
Your reception will be taking place at the main club house with having two location options. The first one would be an indoor reception held in the club house. This option would be good on those super hot summer days or those cold and bad weather days of early spring and fall. The second option, which most couples choose to use is the outdoor area of the 11 green tee box. This location is center on the tee box with amazing views of the back nine area and the surrounding forested foothills. On the bigger tee box your dinner, speeches and cake cutting will take place. While just one elevated tee box down is where your dance floor will be set up at for your guest and you to dance the night away on. Auburn Valley Golf Club is on of the hidden wedding venue gems of the greater Sacramento area.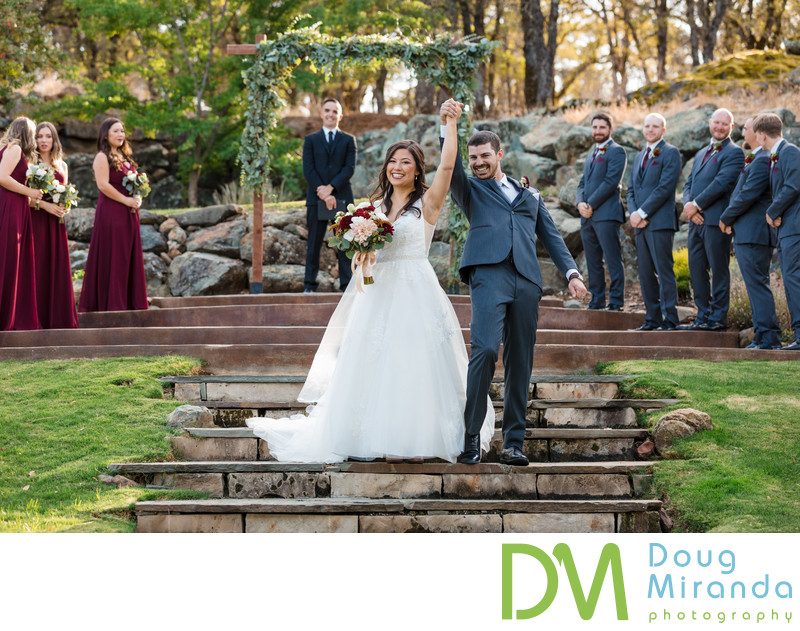 A list of services that are offered for each wedding event.
Ceremony area.
Dressing room area for bride, groom and bridal party.
Indoor reception area.
Outdoor reception area.
Handicap accessible.
Rehearsal prior to your event.
In house catering for appetizers and meal services.
In house bar with beverages.
Glassware and flatware.
Set up and clean up of your event.
Chairs and liens for ceremony and reception.
Heat lamps.
Golf cart series for bride, groom and bridal party.
Water station for guest.
Gift and cake tables.
Cake cutting service.
Wedding ceremony arch if needed.
Venue can accommodate up to 250 guest.
Location: 8800 Auburn Valley Rd, Auburn, CA 95602.

Keywords: Auburn Valley Golf Club (9).