Chateau at Incline Village Fall Wedding Photography
Chateau at Incline Village fall wedding photography of a groom kissing his bride on the cheek next to a tall stand of golden cottonwood trees. The 18th fairway and surround holes near the clubhouse have tons of turning trees and bushes, which turn a bright gold and yellow in the fall months. This is a sight to see with your own eyes and if you're lucky enough you can have your wedding pictures taken here too.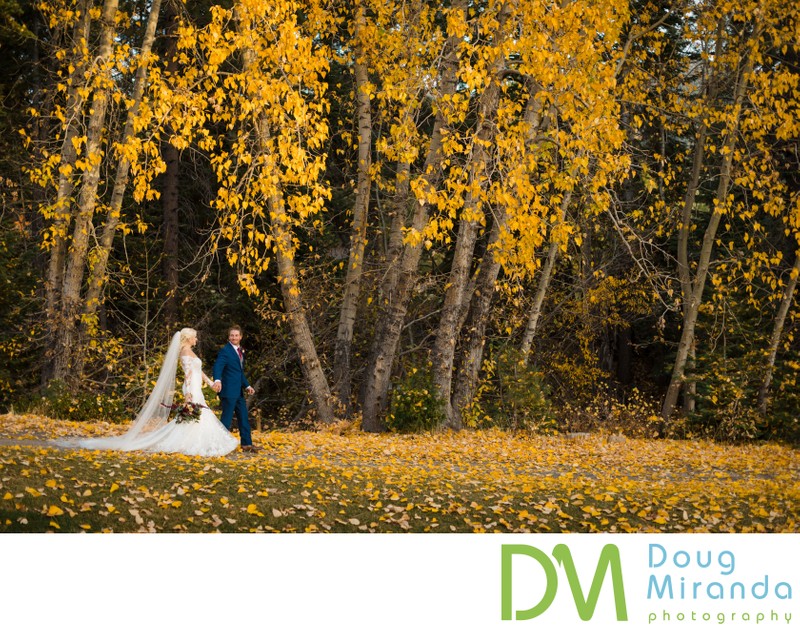 The Chateau at Incline Village is a wedding and event venue that sits atop an 18 hole championship golf course with mountain views and filtered views of North Lake Tahoe. This clubhouse and grand ballroom is located in the mountain town of Incline Village Nevada, which is situated in a tall pine tree forest on the North shore of Lake Tahoe. The Chateau is one of the few wedding venues that is located on the Nevada side of Tahoe. With this location being a top notch golfing destination you'll find that the surrounding property and grounds are immaculately kept up. This is one of the perks of getting married here is the pure beauty of the area and surrounding mountain forest.
Here's a guide of unique services that the Chateau offer for events and ceremonies.
Banquet Staff, bartender, service staff and bars.
Tables, chairs, linens and a dance floor.
Catering for event and dinner services.
Inside ceremony and reception area.
Outside ceremony locations.
On site dressing room.
Plates, silverware and glassware.
Free parking for guest.
Day of wedding planner.
Set up and clean up of event.
Able to host events year around.
Guest capacity is 250.



If you are interested in having me photograph your wedding day please fill out the contract form on this website. You can also email me directly at doug@dougmiranda.com or give me a call at 916-422-2256. I look forward to hearing from you.

Location: 955 Fairway Blvd, Incline Village, NV 89451..

Keywords: The Chateau at Incline Village NV (6).