Delta King Wedding Photographers
Right before the sunset and we had to be back inside for this newlyweds reception we took just a couple more photos next to the giant red paddle wheel of this iconic riverboat. The sun was still peaking through the trees on the other side of the river giving them some nice sunset back light.
The Delta King Hotel is located right on the waterfront in Old Sacramento. The Delta King is the only waterfront wedding and event center in all of Sacramento. This huge and historical river boat is floating on the waters of the Sacramento River, which makes it such a unique venue location for special events. This riverboat was in services from 1927 to 1940, which was then used during war time as a accommodation ship. After sinking once and being left in shambles over the years the boat was eventually remolded and opened for services in Sacramento in 1989. It has been operating ever since has a hotel, restaurant and event center.
Wedding ceremonies can take place outside or inside the riverboat. The outside ceremonies take place on the lower dock right next the the boat and on the water with views of the Sacramento River. Ceremonies can also take place inside the boat in one of the many large banquet rooms on board. Inside is also where your reception, dinner and dancing will take place on your wedding day. Most of the receptions take place in the paddle room, which has an amazing and up close view of the boats giant paddle that use to power it up and down the rivers.
With the Delta King being located in Old Sacramento there are tons of photo opportunities close by for breath taking wedding photos. You have all the old shops, streets and alley ways right there. Then you have the Tower Bridge right there too within a short walking distance. If you don't feel like leaving the boat there's a ton of options in and around the boat for wedding photography.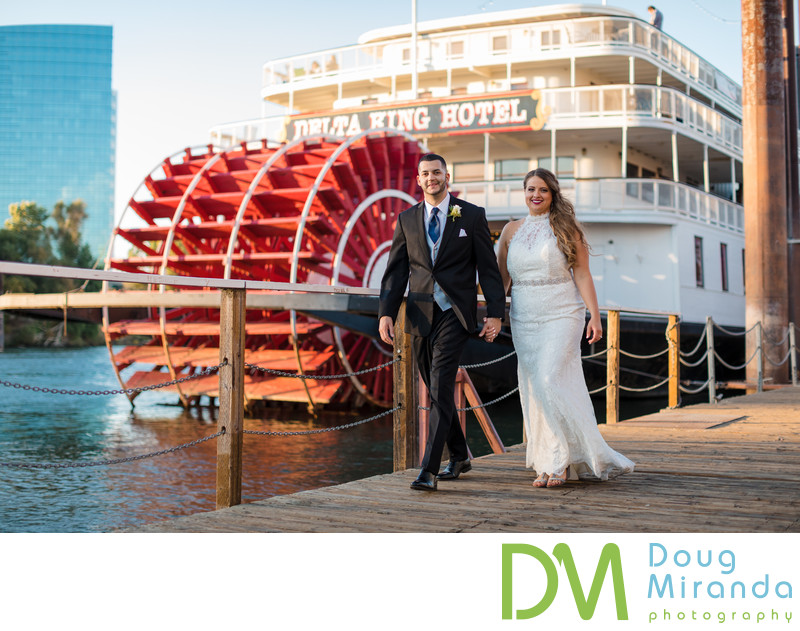 Here's a list of some of the services that they offer for events.
Private dressing room.
Set up and clean up of event.
Bartender services.
Catering services.
Wheelchair access for guest.
Glassware and flatware.
Outdoor and indoor ceremony site.
Indoor and outdoor reception and dinner locations.
Valet services.
Chairs, tables and linens for ceremony and reception.
Hotel rooms for guest to pay and stay in for the night or nights.
Event staff to help with ceremony, reception and dinner.
Can accommodate up to 220 guests for events.
Aisle runner, altar and arches to choose from for ceremony.
Location: 3231, 1000 Front St, Sacramento, CA 95814.

Keywords: Delta King (7).