Flower Farm Inn Wedding Pictures
In this picture a smiling bride is walking down the aisle arm in arm with her mom and dad. She's has the biggest smile as she nears her soon to be husband after seeing him for the first time that day. This moment is always one of my favorite times of the day. It such raw emotion and you never know how everyone is going to react in the photos. Most of the time my favorite photos from the day come at this point of the ceremony.
The Flower Farm Inn is a quaint working farm that is also used as a wedding venue. It's located just outside of Sacramento at the base of the foothills in Loomis California. Among it having a working citrus orchard it also has a cafe, wine tasting room and a bed and breakfast on site for guest to enjoy. The wedding and event venue is located on the back of the property near the bed and breakfast. The bride and groom will both have locations to get ready about on the day of. The groom will have one of the small cottages to get ready in with his groomsmen. The bride and her bridesmaid will have the spacious old two story house to get ready in. This stunning old white house with a covered porch and white picket fence is a great back drop for pictures on the day of.
Located about 100 yards away from the cottages and main house will be the outdoor ceremony site and reception area. Your ceremony will take place right under giant oak tree, which is breathing spot to tie the knot. Your guest will be seated in chairs on the well manicured lawn watching the ceremony unfold. After the ceremony is over the reception building is just a short walk away for guest to enjoy a cocktail before the the dinner an party starts for the evening. The reception building looks like a huge red barn from the outside, but is a normal spacious ballroom on the inside equipped with all the modern luxuries of today.
Here's a list of some of details about the event center.
The wedding venue can hold up to 240 guest inside and outside.
They have in-house catering and can accept off-site caterers too.
Drinks are bring your own alcohol and non alcohol in with no corkage fee. No hard alcohol.
Events can be held year around.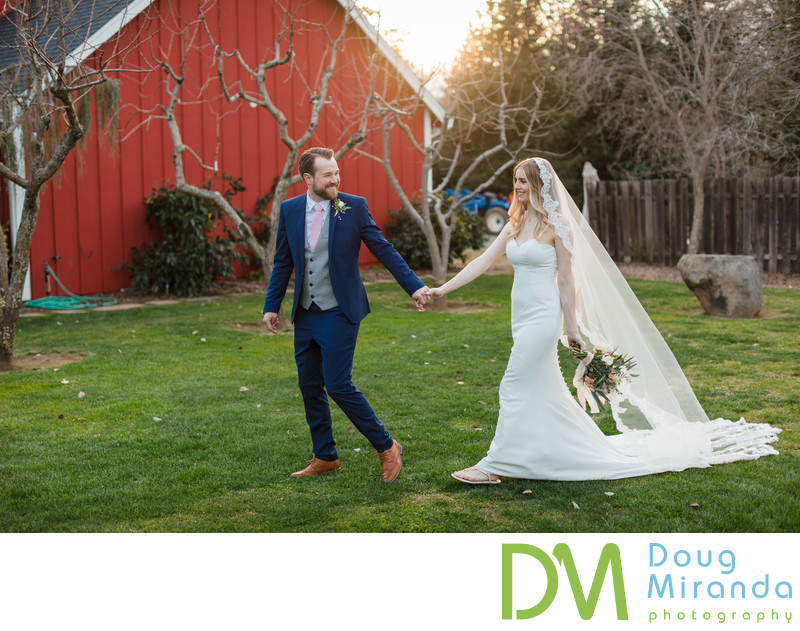 Here's a list of wedding vendors the couple used.
Wedding Venue, The Flower Farm Inn, 4150 Auburn Folsom Rd, Loomis, CA 95650.
Catering, Hickory Hanks BBQ, 1337 I St, Rio Linda, CA 95673.
DJ, JMC Events.
Photo Booth, Classic Photo Booth Rentals, 100 Harrison Ave #433, Auburn, CA 95604.
Photographer, Doug Miranda Photography, 1017 L St #791, Sacramento, CA 95814.
Location: 4150 Auburn Folsom Rd, Loomis, CA 95650.

Keywords: Flower Farm Inn (16).