Tahoe Elopement Photographer
Emerald Bay Elopement Photography
Emerald Bay elopement photography of a couple standing out on a bluff at sunrise on their wedding day during the middle of the summer in South Lake Tahoe. Summer time is the busiest time of the year for crowds around the Tahoe basin. With Emerald Bay being one of the most packed locations around the lake you have to get there early to beat the crowds. We ended up arriving at this spot before the sunrise, which insured us with some great photos. Summer elopements and small weddings are the quintessential Lake Tahoe wedding. Who doesn't want to get married during a nice sunny warm day next to the waters edge at one of the most stunningly beautiful lakes in all of America. The downside to summer time elopements and small weddings are the crowds and available open dates. If you plan ahead you'll be able to book a great venue though without hassle. Other than that summer is a perfect time to elope here. Lake Tahoe elopement photographer Doug Miranda Photography loves capturing photos of couples who would prefer a smaller wedding or having an elopement all by themselves. Tahoe is the perfect place for eloping and elopement photography. There are many amazing locations around the Tahoe basin for these kind of small weddings to take place at.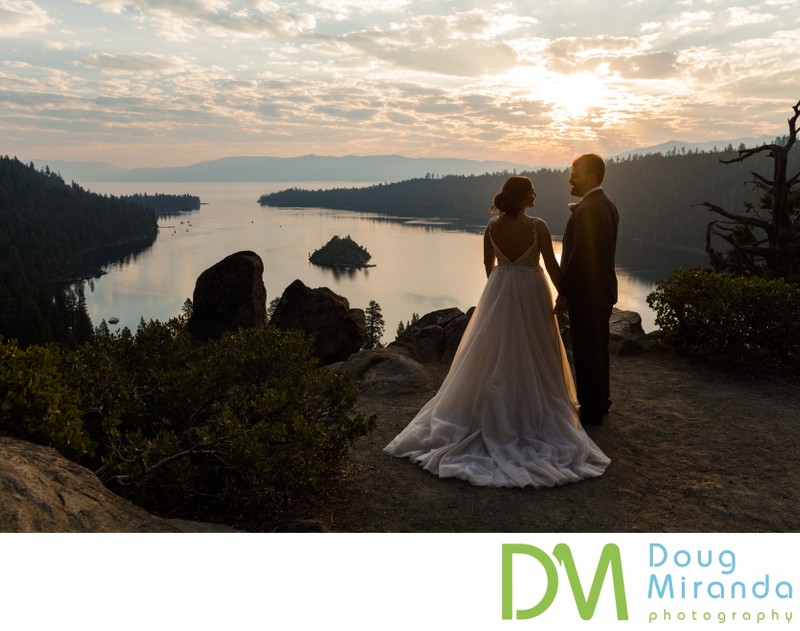 Location: 138 Emerald Bay Rd, South Lake Tahoe, CA 96150.

Keywords: Emerald Bay Lake Tahoe Elopement (12).