Tahoe Elopement Photographer
Sand Harbor Lake Tahoe Elopement Photography
Sand Harbor Lake Tahoe elopement photography of a married couple cuddling up together at sunset on a summer day with the crystal clear water behind them. This Nevada state park is one of the most popular locations in all of the Tahoe. Once you see this beach for the first time you quickly realize why it's a top destination for people to see and visit. With that it makes perfect scene that newly weds would love to hold their small wedding here or have an elopement at this stunning location. Here's some information about Tahoe summer elopments.
Summer elopements and small weddings are the quintessential Lake Tahoe wedding. Who doesn't want to get married during a nice sunny warm day next to the waters edge at one of the most stunningly beautiful lakes in all of America. The downside to summer time elopements and small weddings are the crowds and available open dates. If you plan ahead you'll be able to book a great venue though without hassle. Other than that summer is a perfect time to elope here.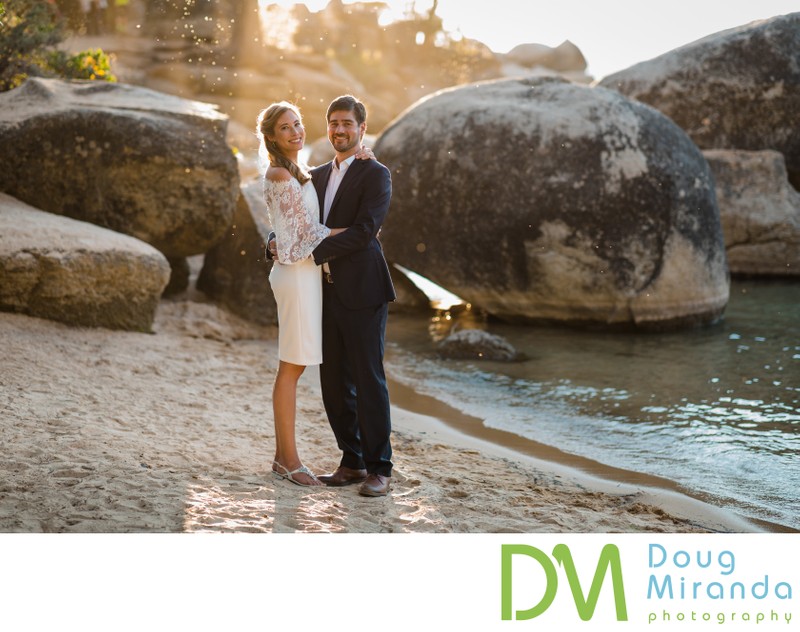 If you are interested in wanting me to photograph your wedding day please fill out the contract form on this website. You can also email me directly at doug@dougmiranda.com or give me a call at 916-422-2256. I look forward to hearing from you.

Location: NV-28, Incline Village, NV 89451..

Keywords: Sand Harbor NV (7).