Tahoe Wedding Photographer
Lake Tahoe Elopement
Lake Tahoe Elopement of a newly married couple standing on a cliff in Emerald Bay State Park at sunrise on a stunning summer morning.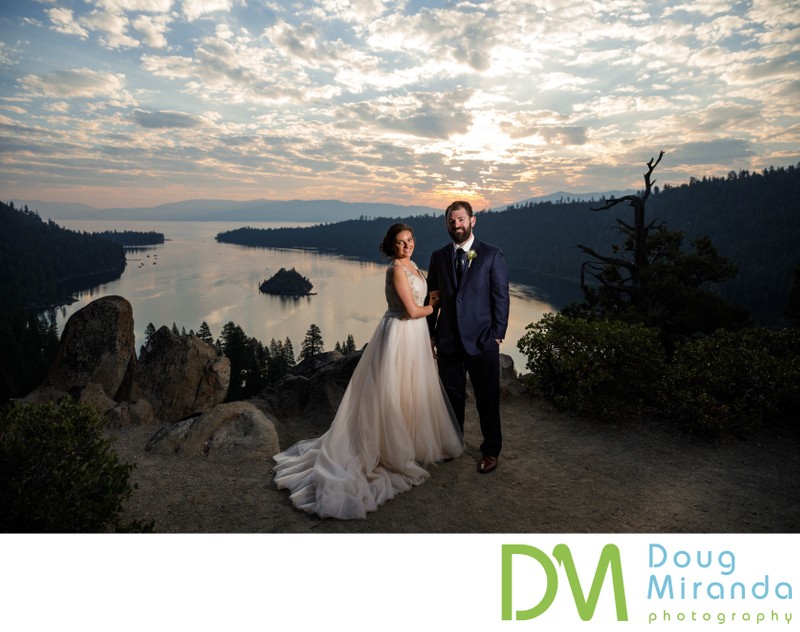 Lake Tahoe elopement photographer Doug Miranda Photography loves capturing photos of couples who would prefer a smaller wedding or having an elopement all by themselves. Tahoe is the perfect place for eloping and elopement photography. There are many amazing locations around the Tahoe basin for these kind of small weddings to take place at.
Here's a list of a couple popular elopement spots around Lake Tahoe. The first one is Emerald Bay, which is one of the most stunning locations around Tahoe. But over the years it has become insanely busy and packed with tourist. I would highly recommend a morning ceremony at Emerald Bay in order to beat the crowds and have those perfect backlit photos. In order to get married here you must have a permit through the National Forest Service, which you can obtain through one of their local offices in Tahoe. The other way is to hire an officiant that can marry you and get one of those permits for you at the same time. If you're not having a friend marry you than this is the way to go if you're wanting to have your ceremony around Emerald Bay. Most high profile locations around the lake require this same Forest Service permit to host your ceremony. So be sure to check if you need one.
Here's a quick list of elopement locations.
Emerald Bay State Park
Sand Harbor
Logan Shoals Vista Point
Donner Lake
Donner Pass
Squaw Valley
Truckee River
Fall Leaf Lake
Hope Valley






Location: 138 Emerald Bay Rd, South Lake Tahoe, CA 96150..

Keywords: Emerald Bay (2).