Tahoe Wedding Photographer
Round Hill Pines Beach Wedding Ceremony Photography
Round Hill Pines Beach wedding ceremony photography picture of a bride and groom exchanging vows on the sandy shoreline of South Lake Tahoe. The ceremony site at Round Hill is one of the most stunning beach locations in all of Tahoe.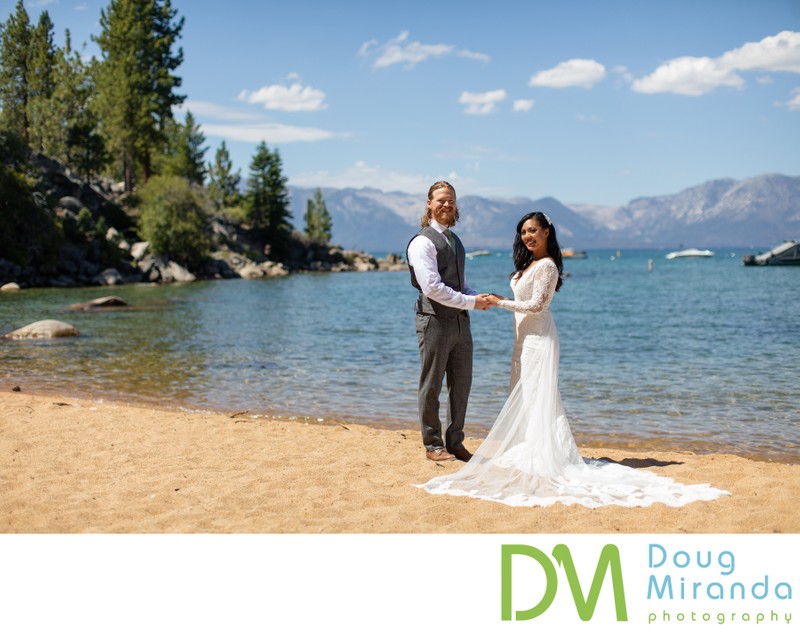 Round Hill Pines Beach Resort is located on a sandy beach on the shores of South Lake Tahoe in the picturesque town of Zephyr Cove Nevada. Round Hill Pines Beach Resort is one of a hand full of Lake Tahoe wedding venues that is a beach front wedding and event center. It's surrounded by a tall pine tree forest and located in a sandy waterfront cove. Round Hill Pines is open from operation from May to late October.

There are no getting ready areas for couples at Round Hill Pines, so you will need to show up ready for your wedding events. This is not that big of a deal with all the local hotels in the area, rental homes and Airbnb's. The major casinos are located just a couple miles away and a great option for getting ready at. Once everyone in your wedding party is dressed and ready for your special day you'll head on over for your ceremony.

Wedding ceremonies can take place in two locations at Round Hill Pines Beach Resort. The first ceremony location and the largest is the beach waterfront cite. This area can hold up to 225 guest to watch your nuptials. This site is located to the far left side of the beach area to keep beach goers away from your ceremony. You'll have grand views of Lake Tahoe, Mt.Tallac and all of the west shore as your backdrop while you get married. Now who wouldn't want a sandy beachfront wedding at one of the most picturesque lakes in North America. The second wedding ceremony location at Round Hill Pines is located on their waterfront pier. The dockside ceremony site can only hold 30 standing guest, but this is an amazing spot to get married at. You'll be out over the crystal clear blue water of Tahoe as you recite your vows. So depending the size of your wedding and what location you like you'll have to great ceremony sites to pick from. The bonus for both of these locations is that you'll have a Lake Tahoe beach front wedding venue.




Location: 300 US-50, Zephyr Cove, NV 89448..

Keywords: Round Hills Pine Beach Resort (11).