Tahoe Wedding Photographer
Sand Harbor Lake Tahoe Elopement Photos
Sand Harbor Lake Tahoe Elopement photos of a cute husband and wife walking on the beach together at sunset right after their ceremony at this state park.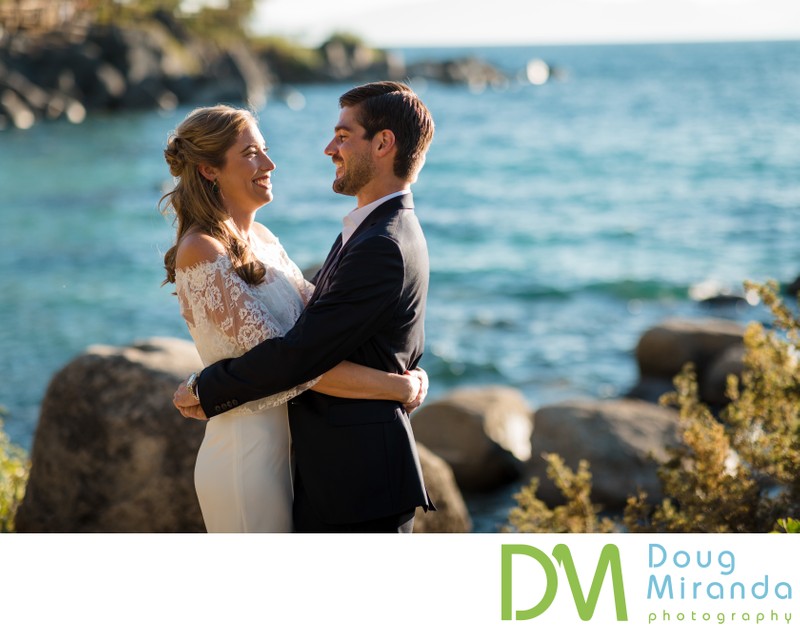 A big key item for your Lake Tahoe elopement is finding a photographer that can take photographs during your nuptials. As a Lake Tahoe elopement photographer myself I would say to book me and if I'm not open on your date you should look for a wedding photographer that has knowledge of the Tahoe area. I know that lots of websites and planners say you should hire a local photographer because they know best which is not true. Honestly most all Tahoe photographers don't even live in Tahoe and live in the surrounding areas. Tahoe is just to dam expensive to live in. This is where you just need to find a photographer who has knowledge of the area and has photographed lots of wedding in and around the Tahoe basin. You'll be able to find this out by looking at websites or calling around.

If you are interested in wanting me to photograph your wedding day please fill out the contract form on this website. You can also email me directly at doug@dougmiranda.com or give me a call at 916-422-2256. I look forward to hearing from you.

Location: NV-28, Incline Village, NV 89451..

Keywords: Sand Harbor NV (7).