Tahoe Wedding Photographer
South Lake Tahoe Elopement
South Lake Tahoe elopement of a couple kissing after their summer morning ceremony at Kiva Beach just outside of Camp Richardson California. Waking up early in the morning is tuff but if you're wanting to elope during the summer months in Tahoe than it's wise to have a sunrise ceremony. By doing this you beat the crowds and have the beaches all to yourselves while the tourist are sleeping it off from the night before. Normally this beach would have a couple hundred people on during the afternoon when most weddings take place. As you can see by the photo there's not a soul on the beach.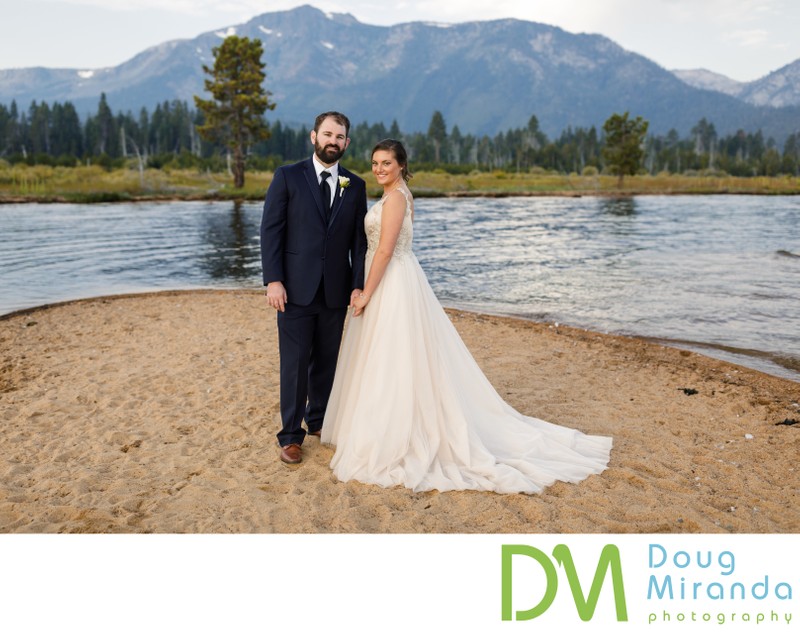 Here's some information on finding a Lake Tahoe elopement photographer that can take photographs during your nuptials. As a Lake Tahoe elopement photographer myself I would say to book me and if I'm not open on your date you should look for a wedding photographer that has knowledge of the Tahoe area. I know that lots of websites and planners say you should hire a local photographer because they know best which is not true. Honestly most all Tahoe photographers don't even live in Tahoe and live in the surrounding areas. Tahoe is just to dam expensive to live in. This is where you just need to find a photographer who has knowledge of the area and has photographed lots of wedding in and around the Tahoe basin. You'll be able to find this out by looking at websites or calling around.

If you are interested in wanting me to photograph your wedding day please fill out the contract form on this website. You can also email me directly at doug@dougmiranda.com or give me a call at 916-422-2256. I look forward to hearing from you.

Location: 1 Valhalla Rd, South Lake Tahoe, CA 96150..

Keywords: South Lake Tahoe Elopment (4).