Sterling Hotel Wedding Ceremony Photography
Sterling Hotel wedding ceremony photography of a newly married couple walking back down the aisle smiling ear to ear that they just became husband and wife. This ceremony picture was taken in the outside courtyard that they offer for ceremonies.
The Sterling Hotel by Wedgewood Weddings is a turn back the clock vintage Victorian style building located on a quite outlining street of downtown Sacramento California. This wedding venue has some unique charm that most of the other venues in downtown Sacramento lack.
With every wedding that takes place at the Sterling Hotel they supply a getting ready area for the bride and groom and their bridal party. Since the venue is also a small hotel couples can also book rooms to stay in and to get ready in if they don't want to use the allotted getting ready suites.The other bonus of it being a small hotel is that family and friends can stay at the wedding venue too. If the hotel is booked up there are two large high rise hotels literally two blocks away. Those hotels are within a easy walking distance of the event center, which makes it super convenient for guests to get back to their rooms after a night of celebrating.
The Sterling Hotel can hold indoor and outdoor wedding ceremonies year around. The outdoor ceremonies are held in their side courtyard. This area is a charming location to get married at under some giant trees that give ample shade for those warm summer afternoons. When the weather turns bad or it's too cold outside the ceremonies can be held inside the hotel in an old lounge area with huge windows that let in lots of natural light. The second indoor wedding ceremony option would be in the grand ballroom where your reception will take place.
Your cocktail hour part of the day will take place in a bar area that is located just off the courtyard ceremony site. While your guest are in the bar the staff will clear the courtyard of ceremony chairs so that with in minutes guest can also mingle and enjoy cocktail hour outside in the courtyard.
While your guest are enjoying themselves at cocktail hour you'll be able to take all your family pictures and portraits around the property and treelined sidewalks near the venue.There are many picture locations to choose from but the most popular are the front steps that lead up to the entrance of this grand Victorian mansion.
Once your finished with your photo session you'll be able to join your family and friends for your dinner, reception and dancing in the ballroom for the rest of your celebration. The ballroom is a beautifully decorated room to enjoy the rest of your festivities in and dance the night away. If you're looking for a charming wedding venue with a vintage feel then you should stop by The Sterling Hotel to see if it fits your weddings needs.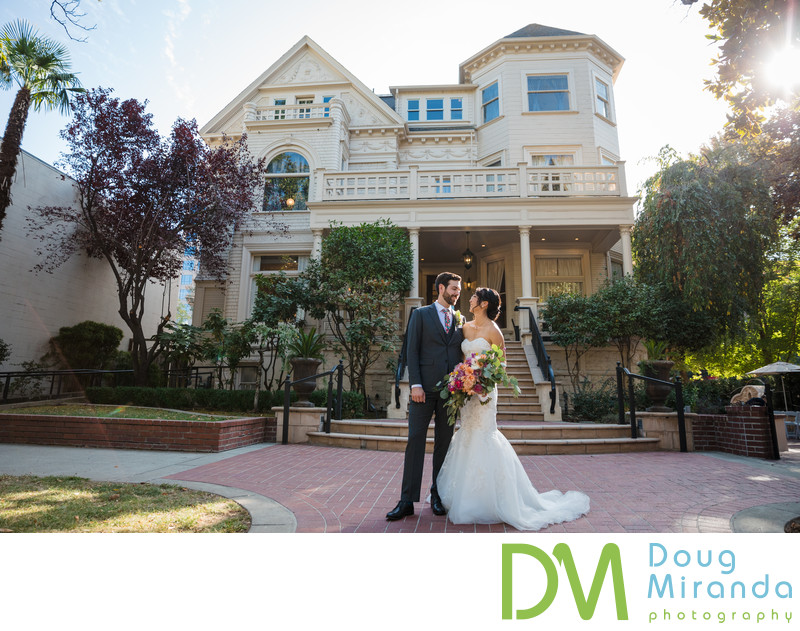 Here's a list of services that they offer for each event.



The venue can accommodate up to 200 guest.
Can host indoor and outdoor wedding ceremonies.
Receptions take place in the indoor ballroom.
Getting ready suites for bride and groom.
Event planning for every wedding, along with timeline creation.
Rehearsal prior to your event.
In house bar with beverages.
In house catering for appetizers and meal services.
Coordination of wedding vendors.
Glassware and flatware.
Set up and clean up of your event.
Chairs and liens for ceremony and reception.
Heat lamps.
Handicap Accessible.
Location: 1300 H St, Sacramento, CA 95814.

Keywords: The Sterling Hotel (9).