Taber Ranch Wedding Photos
This photo was taken as we walked away from the vintage Ford Mustang that got us to the top of the hill for sunset photos. We were just walking to one of the old oak trees a top of the hill that would be our first location for their portraits. I always have the couple hold hands as we walk around because I'm always taking photos and these usually end up being better than the posed ones anyways. They are just more relaxed and not even thinking about the camera at this point of the day. I just love both their expressions on their faces they look like giddy school children laughing away.
Taber Ranch Vineyard & Event Center is located in the scenic Capay Valley in Northern California and was established back in 1867. This wedding venue is a true gem of the Capay Valley and the surrounding cities of Fairfield, Vacaville, Napa and the great Sacramento region. This wedding venue is located on a 500 acre ranch that is a working vineyard at the edge of wine country in the rolling hills. With that being said this picturesque wedding venue is a dream come true location for many couples looking to get married at a ranch with a vineyard setting.
Ceremonies will take place at top of one of the hills right behind the barn and reception site. When you're on top of the hill at the ceremony site you will be greeted with 360 degree views of the surround Capay Valley and rolling country side.The ceremony site sits on a lush green lawn in which your chairs will be staged on, so that your guest can watch the two of you exchange vows. This ceremony site in my opinion is one of the most breathtaking locations in the area. The hilltop views really make it a top notch site for vows. When you host your wedding here the bride will have the option of riding up to the ceremony site in a classic red Cadillac covetable or a red classic covetable Ford Mustang. This a special touch that is added to every wedding that takes place at Taber Ranch. Once the ceremony and formal photos are done at the ceremony site the two of you will be whisk away in one of the red classic cars.
When the ceremony is over you'll be driven around the ranch property to take your couple portraits. There are many locations to pick from here like their grape vineyards, olive and almond tree orchards which is a great place to start at. You can also stay a top the ceremony site and get some epic wedding photos up there. At sunset you'll be driven to the top of another rolling hillside that has a couple giant oak trees. This area also has amazing views of the whole valley and is a great place to watch the sunset and have beautiful pictures taken of the two of you before heading back down to your reception. Taber Ranch is definitely not lacking locations for your wedding portraits to be taken at.
If you're looking for a country wedding venue in the Northern California area with that rustic barn and vineyard feel then you should take a site visit at Taber Ranch Vineyard and Event Center. There's a reason why this wedding and event center is booked out all season long year after year.
Here's a guide of unique services that Taber Ranch offers for events and weddings.
Bridal Suite
Getting ready room for groom.
Bar and cocktail hour area.
Tables and chairs
Outdoor ceremony and reception locations.
Indoor and outdoor area for dancing.
Free parking for guest.
Day of wedding planner.
Set up and clean up of event.
Wheelchair access.
Guest capacity is 300.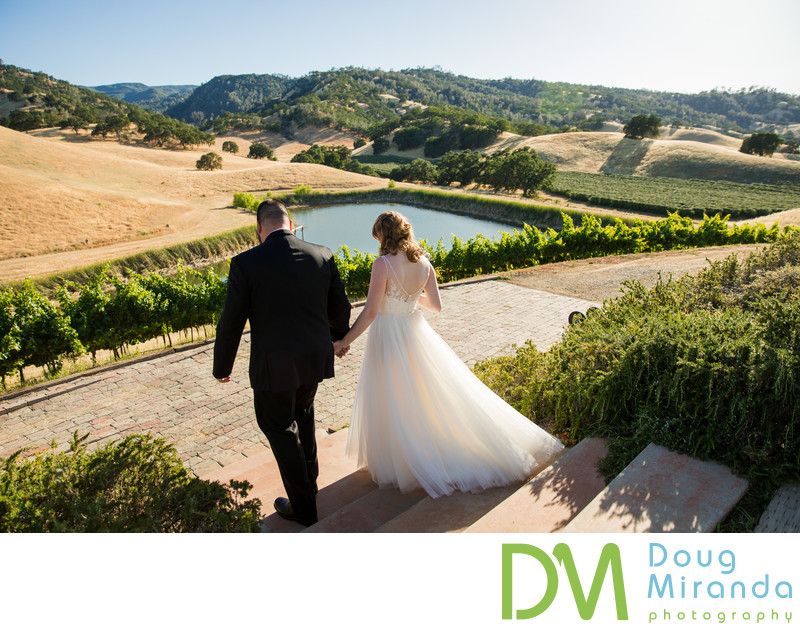 Here is a wedding vendor list that the couple used on their day.
Venue, Taber Ranch Vineyard & Event Center, 16628 CR 81, Capay, CA 95607.
Flowers by Taber Ranch Vineyard & Event Center.
DJ, Lighting & Photo Booth, Sky's the Limit Entertainment, 928 Naify Ln, Santa Rosa, CA 95407.
Photographer, Doug Miranda Photography.
Location: 16628 CR 81, Capay, CA 95607.

Keywords: Taber Ranch (17).