Top Old Sugar Mill Wedding Photograph
Top Old Sugar Mill wedding photograph of a couple cuddling together in the Mill Room at sunset on a warm fall day in the California delta. The Mill Room is a great location for wedding photos during your special day. The light the comes through the windows are beautiful. The Old Sugar Mill is a rustic wine tasting complex that host weddings and events in the small California Delta town of Clarksburg. It's located just 15 minutes south of Sacramento and you'll drive along the picturesque Sacramento River to reach this wonderful wedding venue. The Old Sugar Mill was originally built in 1934 and operated as a beet sugar refinery mill. Since then it has been remolded in certain areas of the mill to host weddings, events and houses eleven wine tasting rooms and storefronts. All of the buildings are made from old original red bricks which add to the rustic vibe of the venue. The venue is across between a vineyard winery and has that architectural urban feel with how the old buildings are set up. This is one of the many reasons this Sacramento wedding venue is so popular and is booked out months in advance.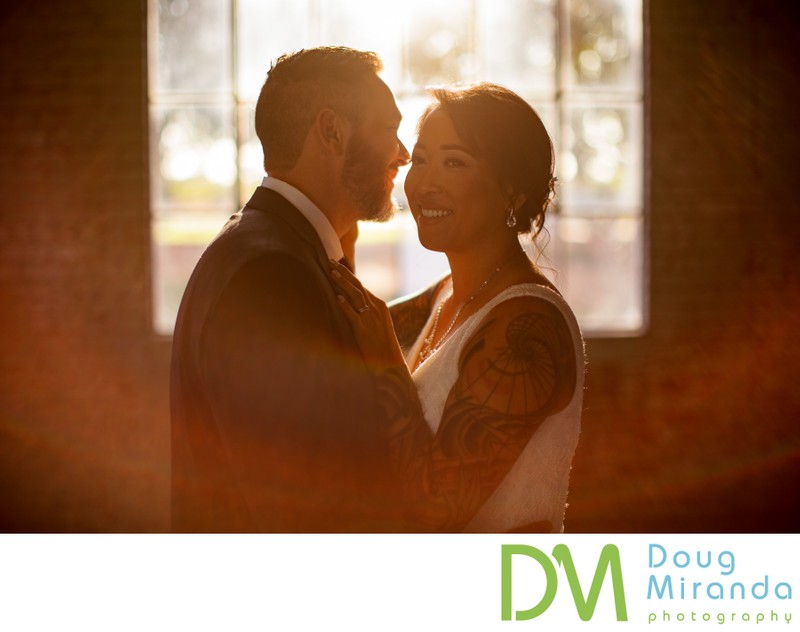 If you are interested in hiring Doug Miranda Photography photograph your wedding day please fill out the contract form on this website. You can also email him directly at doug@dougmiranda.com or give him a call at 916-422-2256. I look forward to hearing from you.

Location: 35265 Willow Ave, Clarksburg, CA 95612.

Keywords: Old Sugar Mill (13).