Vizcaya Sacramento Wedding Reception Photography
The newly married couple are laughing together as the groom gives a speech to their family and friends during the start of the reception. By this time of the day the stress is usually gone and everyone is smiling and all laughs.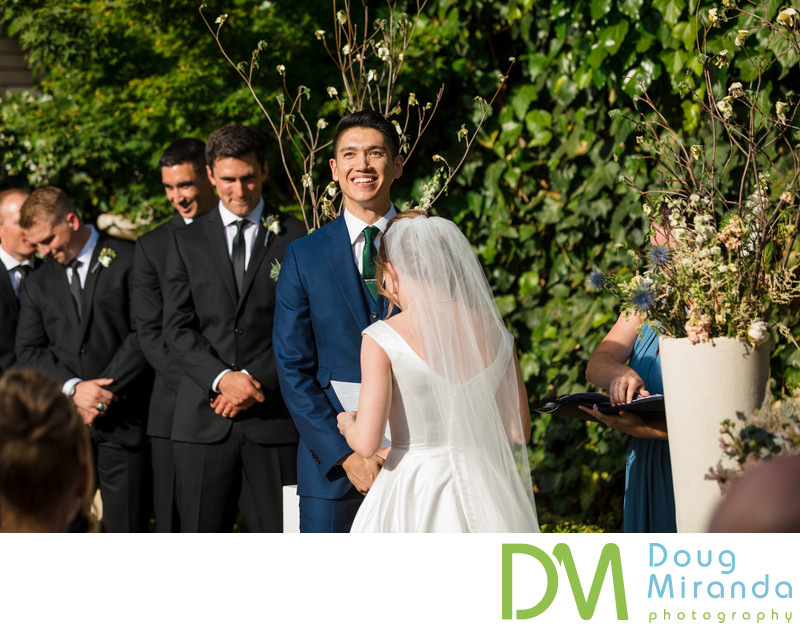 Vizcaya Sacramento is one of the premier wedding and event venues of the city. The property is located in downtown Sacramento and is easy to get to from the freeways and city hotels. The historical mansion, which also serves as a bed and breakfast is one of the main focal points of the property. The mansion is where the getting ready part of the day will take place for the girls and guys. The bride and her bridesmaids will have access to the middle floor parlor and back salon room for getting ready. While the groom and his groomsmen will be stored away downstairs in the basement, which has been turned into a giant man cave. This will keep the men occupied for sure. Behind the mansion is the back courtyard where all the outdoor ceremonies will take place, along with part of your cocktail hour. Vizcaya is able to handle indoor weddings and those will take place right next door at the elegant pavilion. It's nice to know that this venue is one of a few locations that can handle year around events in the greater Sacramento area. The spacious pavilion is where your reception will be taking place on the day of your event. You will enjoy your dinner, speeches, dancing and other events with all of your guest on your wedding night here. Your cocktail hour will take place on the back patio of the pavilion, which is surround by more lush gardens and ivy covered walls. Every location on the grounds are within a super short walking distance. In between the mansion, courtyard and pavilion are immaculate gardens. These locations are great for photos and staying in the shade during the hot summer months of Sacramento. Besides these locations out on the streets of the surrounding neighborhood are some other stunning areas for bridal party and bride and groom portraits. Out front of the pavilion your guest are greeted by two large stone staircase and their trademark water fountain. The in house food catering services turns out some amazing entrees and hors d'oeuvres. This will have you and your guest wanting seconds after one taste. It so nice when a wedding venue offers everything in one location from your getting ready, ceremony site and the reception hall. By booking a location like this it will leave you and your guest a little less stressed out by having no travel time or getting lost between the ceremony and reception. This property dates back to the 1890's and is loaded with history. Vizcaya Sacramento has been making wedding dreams come true over the past 20 years.




Location: 2019 21st St, Sacramento, CA 95818.

Keywords: Vizcaya Sacramento (14).