Black Oak Mountain Vineyard Photos
Black Oak Mountain Vineyard photos of a newly married husband and wife holding each other in the late afternoon light near a giant oak tree on this estate property. The magic of this wedding venue is all the unique photo locations that are accessible to couples during their big day.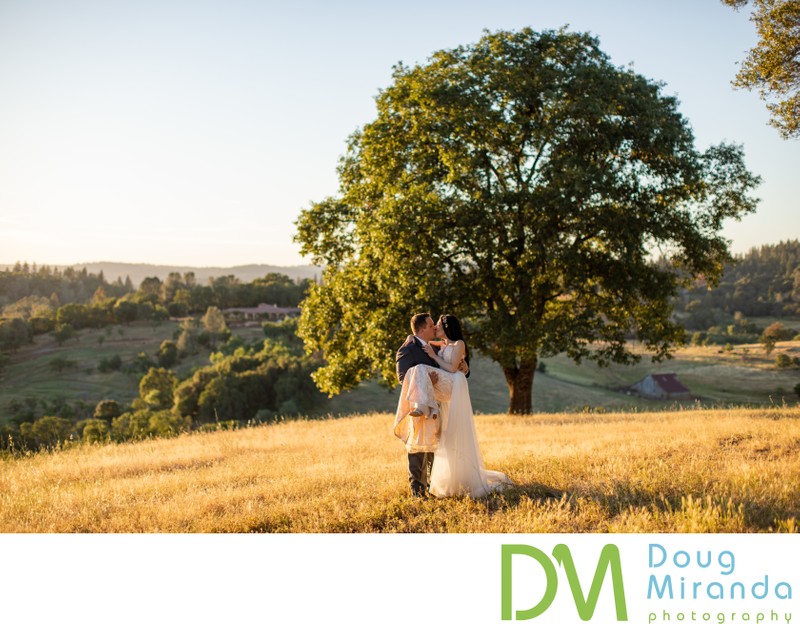 There are a couple ceremony sites to pick from on this massive property to get married at. The first location that hosts wedding ceremonies is the modern barn. This area has a view of the rolling hillsides and oak trees. This location is great if you're not wanting to have guest move all over the property, since it's located right next to the reception area the barn. The lower ceremony area is located right when you drive through the front gate next to a large old oak tree and the vineyards. This is a perfect spot for a couple who wants that classic vineyard wedding setting. There are two other ceremony locations that are located up near the hill top estate. The first is located right next to the mansion, which is a giant deck that is built into the hillside. This area gives you outstanding views of the the surrounding foothills and sierras. This location is geared toward smaller weddings with a low guest count. Lastly the other location for ceremonies is located a top of the hill under the trees with 360's of the surrounding area. This spot is just jaw dropping gorgeous to get married at. This location is also a must to come back to during sunset since you'll have unobstructed views of the setting sun and distant foothills. With the ample amount of ceremony locations they have on site I'm sure you'll find the right one that fits your weddings needs.




Location: 2480 CA-193, Cool, CA 95614.

Keywords: Black Oak Mountain Vineyard (10).