Black Oak Mountain Vineyard Wedding Pictures
Black Oak Mountain Vineyard wedding pictures of a couple practicing their first dance under one of the giant oak trees on this private estate near sunset on a warm summer day. By walking back from the bride and groom and getting a wider perspective you get the true feeling of how huge this oak tree is. The couple looks so tiny compared to the tree at the angle. Then with how the sun highlights the couple which really makes them pop out of the frame. It's really nice when you can give a 3-D effect to a 2-D picture.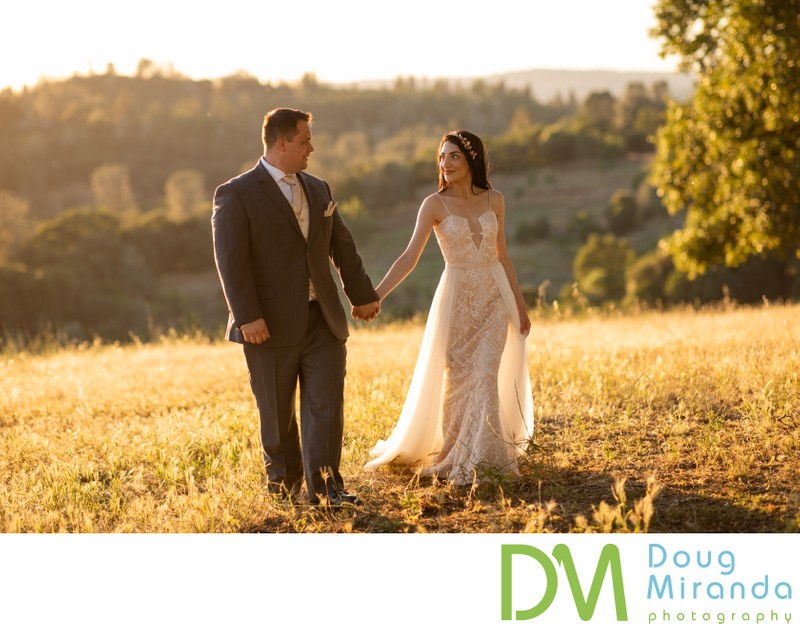 Black Oak Mountain Vineyard is one of the premier luxury wedding and event centers in the foothills of Sacramento. Black Oak Mountain Vineyard is located in the town of Cool California, which is just outside the city of Auburn California. This luxury vineyard wedding venue is situated on 150 acres of rolling grassy foothills surrounded by oak trees and vineyards. There are two buildings on the estate property that can house events. The first on is the modern age barn where weddings and events can take place at. The second is the hill top luxury estate, where wedding can also take place at.
When your done with your photo session you'll be heading back to your reception and cocktail hour at one of two reception areas. The first and most popular location is the modern barn. The barn has it all from the bar area, dance floor, outdoor games and having the option of indoor and outdoor dining. The second reception and dinner area is a top of the hill at the luxury estate. If you're wanting a more modern area to host your reception then this hill top area is for you. This area of the property has the most amazing views and gives you that wow factor to your wedding day. You'll be able to enjoy all the lounging areas and fire pits a top of the hill.
Black Oak Mountain Vineyard is one of the top notch wedding venues in the greater Sacramento area and even in the Northern California area. If you're looking for a private luxury estate to host your event at then look no further than this amazing vineyard. Please do yourself a favor and take a site visit at this wedding venue.
Here's a list of unique services that they offer for events.
Bridal dressing room.
Groom getting ready area.
Tables and chairs.
Lighting and sound.
Free parking for guest.
Set up for your event.
Arch for ceremony.
Outdoor ceremony and reception sites.
Indoor event space.
Covered outdoor space.
On site accommodations.
Can accommodate up to 200 guest for events.
If you are interested in wanting me to photograph your wedding day please fill out the contract form on this website. You can also email me directly at doug@dougmiranda.com or give me a call at 916-422-2256. I look forward to hearing from you.




Location: 2480 CA-193, Cool, CA 95614.

Keywords: Black Oak Mountain Vineyard (10).