Durst Winery Wedding Ceremony Photography
Durst Winery wedding ceremony photography of a newly married bride and groom walking back down the aisle right after tying the knot at this Acampo venue. Durst Winery and Estate is stunningly charming wedding and event venue located in the heart of Acampo California's vineyards. This classic estate and wedding venue is surround by immaculately kept up grounds and has a resorted historical house dating back to the 1800's. Unlike other winery wedding venues in the Acampo and Lodi area Durst has a more classic old time feel to it. Once you take a site visit here and see the tree lined driveway, along with the huge white estate you'll see way this venue sets itself apart from the rest.
The ceremony area is located just behind the main house and right next to the tasting room. It's situated on a giant grass lawn with a huge pine tree and bushes as the backdrop. This area is perfectly manured with other trees, bushes and a stand of cypress trees to the side. There is always a good amount of shade, which a huge plus on those hot summer days in Northern California. Unlike other dusty wedding ceremony locations in the local area this is one of a few lush and beautifully manicured garden setting ceremony sites. This ceremony site is one of the main reasons way couples choose this event center as their wedding venue. There is only a handful of venues in the area that look as beautiful and charring as this location.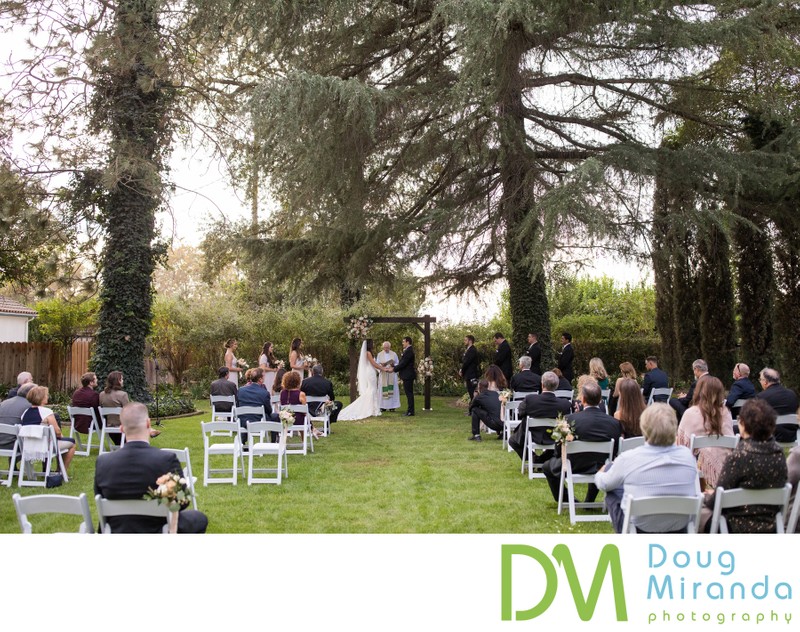 If you are interested in having me photograph your wedding day please fill out the contract form on this website. You can also email me directly at doug@dougmiranda.com or give me a call at 916-422-2256. I look forward to hearing from you.

Location: 10173 Acampo Rd, Acampo, CA 95220..

Keywords: Durst Winery & Estate (16).