Everline Resort and Spa Wedding Ceremony Pictures
Everline Resort and Spa wedding ceremony pictures of a bride laughing during the middle of her vow exchange after something really funny was said between her and her soon to be husband. Ceremony photos like these are priceless and an example of great candid photos that can be taken during the most important part of a wedding day.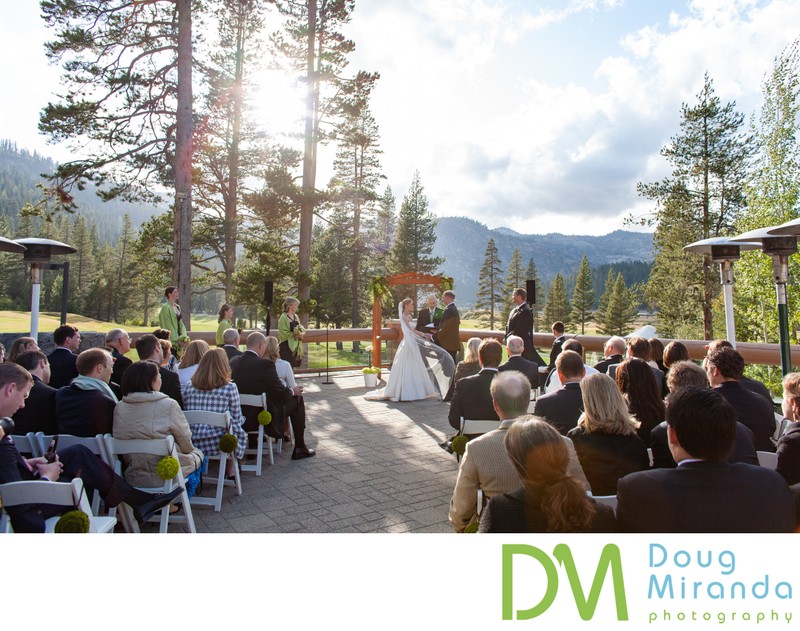 Wedding ceremonies can take place at three different locations depending on the how many guest you have and which location fits your style and needs. The "Spa Deck" as views of the valley floor and mountain peaks with a stone fireplace to add to the ambience of the deck. This location holds up to 200 guest. The "Golf Course" location is situated on one of the tee boxes and is surrounded by tall trees and has amazing views of the mountain tops and alpine valley. This location accommodates up to 150 guest. Lastly the "Pavilion" site is located at the base of the 250 foot waterfall that is near the pool deck and hotel. This is the largest location and can hold up to 300 guest.

If you are interested in having me photograph your wedding day please fill out the contract form on this website. You can also email me directly at doug@dougmiranda.com or give me a call at 916-422-2256. I look forward to hearing from you.

Location: 400 Squaw Creek Rd, Olympic Valley, CA 96146.

Keywords: Everline Resort and Spa Wedding (39).