Gar Woods Grill and Pier Wedding Ceremony Picture
Gar Woods Grill and Pier wedding ceremony picture of a smiling bride and groom during the middle of their services looking over at their kids.
Ceremonies at Gar Woods Grill and Pier is located at the end of the property on a giant grassy green lawn at the edge of the lake shore. This ceremony site has the most amazing and breathtaking postcard views of Lake Tahoe. This ceremony location is one of the main reasons so many newly weds book Gar Woods as their wedding venue. As you walk down the aisle to start your ceremony you'll be greeted by the smiling faces of your guest and the most stunning view of Tahoe. The beach front ceremony location and can host up to 160 seated guest to watch the two of you exchange wedding vows.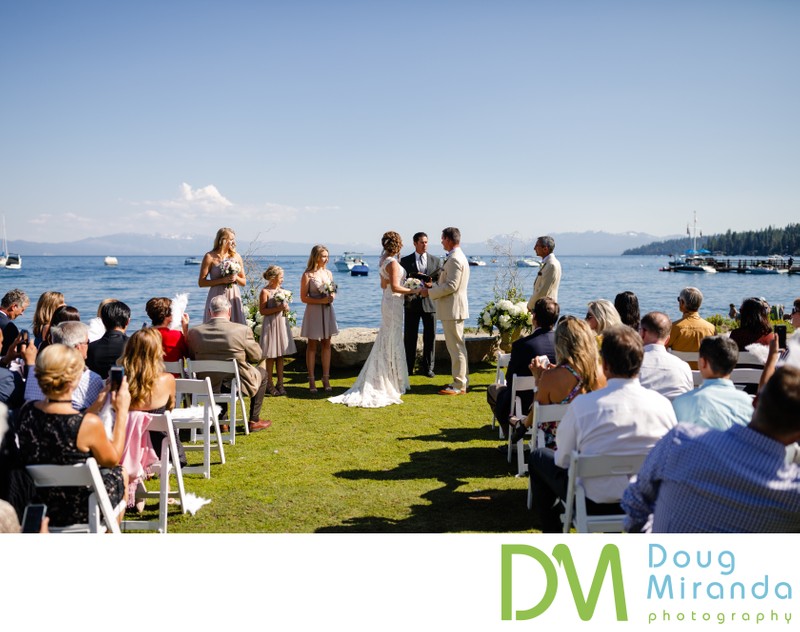 Once your ceremony is over your guest will head back to the restaurant for cocktail hour, while you stay back at the lawn to finish your family formal portraits. After that you'll have access to the ceremony site and water front for your couple portraits. During the summer months the waters edge can be packed with beach goers, so must couples will come back at sunset to the beach. At this point this is when Gar Woods private pier comes in handy, which gives you access to have water front photos without having to deal with all the crowds. Their pier is one of the bigger ones located on the lake, which gives you lots of options for photos. Also to the right of Gar Woods is some other waterfront locations for Lake Tahoe wedding photos. When you're done with the portrait session part of the day you'll head inside to greet your guest and start the reception part of your wedding day.




Location: 5000 N Lake Blvd, Carnelian Bay, CA 96140.

Keywords: Gar Woods Grill & Pier (10).