High Sierra Iris Wedding Gardens Ceremony Photos
High Sierra Iris Wedding Gardens Ceremony photos of a bride holding onto her husband's hands during their vow exchange part of the ceremony.
High Sierra Iris Wedding Gardens is located in the foothills just outside of Sacramento in the town of Camino California. This area of the foothills is know to locals as Apple Hill, which is super popular during the apple season from late September to November. This whole area is so quite and peaceful. If you're looking for a outdoor mountain wedding location without going all the way to Tahoe then you've found your spot.
You'll greeted by a grand outdoor staircase that leads to down to the ceremony and reception site. The ceremony will take place right next to a arch way that is covered with greenery and flowers when in bloom. Besides that your backdrop is the surround forest and trees, which look astounding. Guest will be seated on the green lawn as they watch you enter by walking down the staircase. Once your ceremony is over the reception will take place on the same lawn as the ceremony.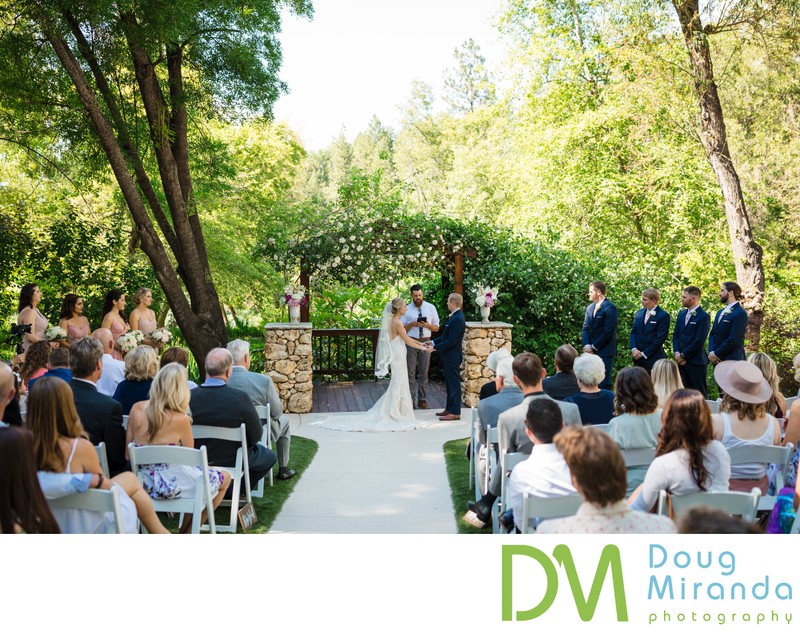 Location: 3170 Hassler Rd, Camino, CA 95709..

Keywords: High Sierra Iris & Wedding Gardens (12).