Round Hill Pines Beach Resort Wedding Ceremony
Round Hill Pines Beach Resort wedding ceremony photo of a newly married couple holding hands as they walk back down the sandy beach aisle in South Lake Tahoe. This is one of my favorite moments of the ceremony because you can see the joy on their faces as they finally realize that they are finally married.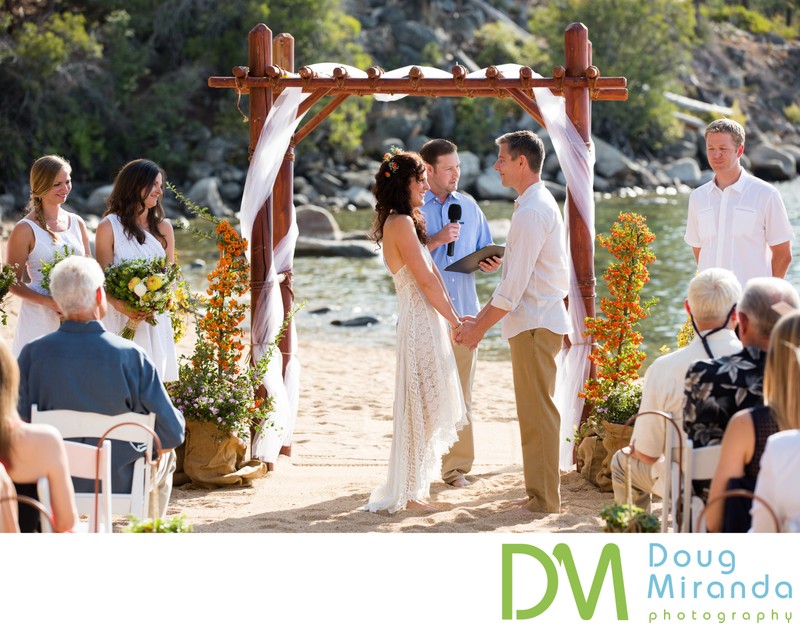 Wedding ceremonies can take place in two locations at Round Hill Pines Beach Resort. The first ceremony location and the largest is the beach waterfront cite. This area can hold up to 225 guest to watch your nuptials. This site is located to the far left side of the beach area to keep beach goers away from your ceremony. You'll have grand views of Lake Tahoe, Mt.Tallac and all of the west shore as your backdrop while you get married. Now who wouldn't want a sandy beachfront wedding at one of the most picturesque lakes in North America. The second wedding ceremony location at Round Hill Pines is located on their waterfront pier. The dockside ceremony site can only hold 30 standing guest, but this is an amazing spot to get married at. You'll be out over the crystal clear blue water of Tahoe as you recite your vows. So depending the size of your wedding and what location you like you'll have to great ceremony sites to pick from. The bonus for both of these locations is that you'll have a Lake Tahoe beach front wedding venue.

Location: 300 US-50, Zephyr Cove, NV 89448.

Keywords: Round Hill Pines Beach Resort (6).