Wine and Roses Wedding Ceremony Photographer
Wine and Roses wedding ceremony photographer Doug Miranda Photography captures an image of a bride smiling at her soon to be husband during their vows. Wine and Roses offers a couple unique locations for couples to tie the knot at. The first ceremony location is called the "Wedding Garden" this area is located just outside the courtyard and fountain area. This spot is a lush garden and lawn area. Your ceremony location can be set up in a couple different directions depending on what you want as a backdrop. The great thing about the "Wedding Garden" is that most all of the area is shaded by giant trees through out the day. This is a huge plus on those hot afternoons. The second area is the "Cellar Room & Patio" this indoor ceremony site is used for smaller events and when the weather turns wet or when it's just too hot out. The third ceremony location is the "Pavilion & Patio" tent area. This site is only used when the rains come. The other area that is only used when it's cold and rainy is the Garden Ballroom. There are many ceremony sites to choose from here, which gives you a lot of options for your big day and it's nice knowing you have a plan B when the weather turns bad unlike other venues in the area.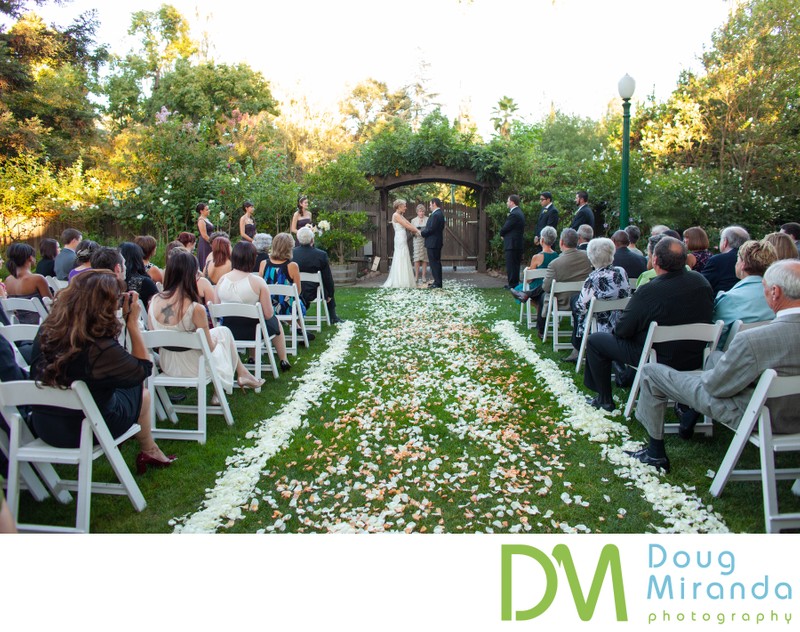 Location: 2505 W Turner Rd, Lodi, CA 95242.

Keywords: Wine and Roses (13).