Tahoe Elopement Photographer
Contact me about special elopement and intimate wedding photography pricing that can take place Monday-Sunday for the remainder of 2020.
How to Plan a Lake Tahoe Elopement.
Below will be a complete elopement guide for couples looking to elope in Lake Tahoe. This list can also be used for couples planning Tahoe weddings too. There is information on how to secure a Lake Tahoe marriage license, find an officiant to marry you and ideas for finding a location around Tahoe that you'll be happy with saying your vows at. Below will also be information on how to find a Lake Tahoe elopement photographer, finding a hair and makeup artist, florist, wedding cakes and carters who can make your wedding day all that much more special.
Lake Tahoe elopement photographer Doug Miranda Photography loves capturing photos of couples who would prefer a smaller wedding or having an elopement all by themselves. Tahoe is the perfect place for eloping and elopement photography. There are many amazing locations around the Tahoe basin for these kind of small weddings to take place at. The biggest question is how to I go about eloping in Lake Tahoe or having a super small wedding in Tahoe?
First off you must have a marriage licenses in order to even get married. Here's where things get a little difficult in the Tahoe area. Lake Tahoe is divided into five counties and you must know what county your ceremony will take place in, in order to find the right courthouse to get your marriage license at. The first county is Placer County which encompasses the half of west shore and all of north Lake Tahoe until you hit the Nevada border line. The second county is El Dorado County which includes all of the California side of South Lake Tahoe and the lower part of the west shore. Then the three counties that make up the Nevada side are Douglas County which includes the Nevada side of South Lake Tahoe and most of the east shore. The next is Carson County which makes up the middle part of the east shore and is followed by Washoe County which makes up the rest of the east shore and northern part of the Nevada side. Once you've figured what county your ceremony will take place in then you can make a trip to the local courthouse to apply for a marriage licenses. It's wise to go to the court house days before or even months before your big day to obtain your licenses.
Below will be a list of courthouse and county clerk's office locations in the Lake Tahoe area where you can secure your marriage license in person. Please note that all these county clerks offices require an appointment in order to receive a marriage license. Call ahead and make an appointment to find out all the information you need to bring in order to get a license.
If you're getting married on the California side of South Lake Tahoe/El Dorado County this is where you need to go to secure a marriage license.
El Dorado County Recorder-Clerk's Office
3368 Lake Tahoe Blvd. #108 South Lake Tahoe CA 96150
530-573-3409.
You can also get your South Lake Tahoe marriage license in Placerville since it's in the same county
El Dorado County Recorder
360 Fair Ln, Placerville, CA 95667.
530-621-5490
If you're getting married on the the Nevada side of South Lake Tahoe/Douglas County this is where you need to go to in order to secure your marriage license.
County Administration Building
175 Highway 50 Stateline, NV 89449
On the 2nd floor
775-586-7290
If you're getting married in the North Lake Tahoe area/Placer County these are the locations you need to go in order to get a marriage license.
Placer County's Satellite Office
5225 N. Lake Blvd
Carnelian Bay, CA 96140
530-546-1900
Placer County Clerk's Office
2954 Richardson Drive
Auburn, CA 95603
530-886-5610
If you're getting married on the Nevada side of North Lake Tahoe, which is Washoe County you'll have to go all the way down to Reno to get marriage license since the office in Incline Village is now closed as of 2020.
Nancy Parent County Clerk
1001 East 9th Street, Bldg. A Reno, NV 89512
775-784-7287
The next step is finding and booking your wedding venue or elopement location. A good amount of the wedding venues in Tahoe do offer elopement and small wedding packages. So it's a good idea to check out some of the wedding venues to see if your able to elope on their property. Some of these wedding venues only offer these elopement packages Monday through Thursday. If you would like to find a list of Lake Tahoe wedding venues please check out the list that I have made for couples. I have a list for South Lake Tahoe wedding venues, North Lake Tahoe wedding venues and even all the Lake Tahoe beach wedding venues. These list will give you a good starting point of where to look at.
Here's a top 10 list of wedding venues that offer elopements or small wedding packages.
Tahoe Blue Estate
Lake Side Beach
West Shore Cafe
Sugar Bowl Ski Resort
Squaw Valley Ski Resort
Hyatt Regency Lake Tahoe
PlumpJack Squaw Valley
Hellman-Ehrman Mansion
Zephyr Cove Resort
Round Hills Pines Beach Resort
Here's a list of a couple popular elopement spots around Lake Tahoe. The first one is Emerald Bay, which is one of the most stunning locations around Tahoe. But over the years it has become insanely busy and packed with tourist. I would highly recommend a morning ceremony at Emerald Bay in order to beat the crowds and have those perfect backlit photos. In order to get married here you must have a permit through the National Forest Service, which you can obtain through one of their local offices in Tahoe. The other way is to hire an officiant that can marry you and get one of those permits for you at the same time. If you're not having a friend marry you than this is the way to go if you're wanting to have your ceremony around Emerald Bay. Most high profile locations around the lake require this same Forest Service permit to host your ceremony. So be sure to check if you need one.
Another Tahoe elopement location is Logan Shoals Vista Point and close by is the Cave Rock area, which is breath taking for hosting a small wedding or elopement. The other super popular location in Tahoe is Sand Harbor on the east shore just outside of Incline Village. Again this location is super packed with people during the summer months and would only be worth it if you're willing to elope at sunset or during the off season months. Other than this your able to elope almost anywhere around Lake Tahoe as long as you have someone to marry you. There are also many alpine lakes, streams and meadows that surround the basin that are perfect for wedding ceremonies. Not all nuptials have to take place around the lake. Sometimes these other hidden gems are better than getting married around Tahoe.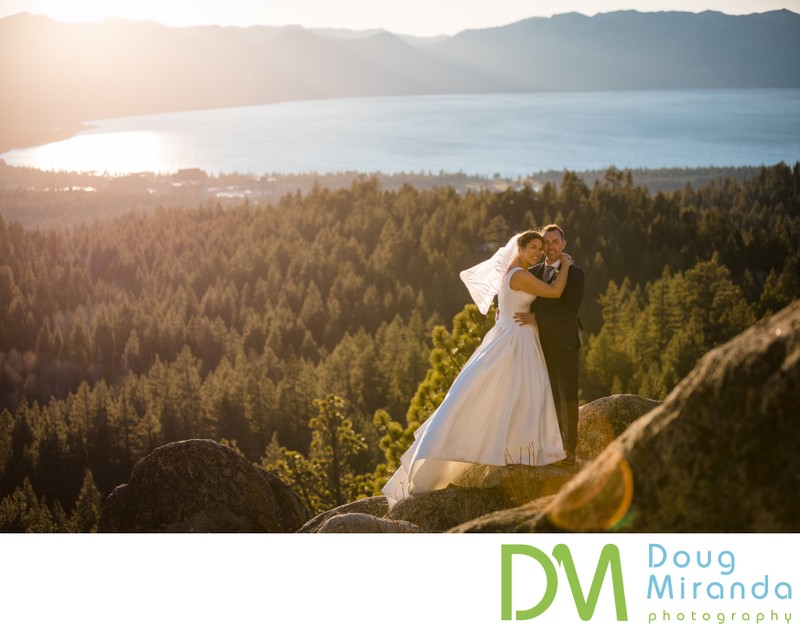 Here's a quick top list of elopement locations around Lake Tahoe.
Emerald Bay State Park
Sand Harbor
Logan Shoals Vista Point
Donner Lake
Donner Pass
Squaw Valley
Truckee River
Fall Leaf Lake
Hope Valley
Zephyr Cove
West Shore of Lake Tahoe
There are many other elopement locations, but these are just some of the top spots.
Finding someone to marry you which is not to hard in the greater Tahoe basin. If you just google Lake Tahoe officiants you'll be more than overwhelmed with the amount of people who are qualified to perform a wedding ceremony for you. The prices range for person to person and what types of services they offer for you too. The other way that couples go about finding an officiant for their small wedding or elopement is to have a friend or family member perform the ceremony. One big thing that this person must do is be legally ordained to marry you on your wedding date. The one place that most all friends and family members go to, in order to be legal is "The Universal Life Church" website. It's as easy as going onto their website, filling out some paperwork and paying a small fee. Before you know it they are ordained to marry you on your special day.
Here's a helpful resource list of a few Tahoe wedding officiates that can marry you in the Tahoe area and help you out with evening getting a ceremony location permit if needed. All of these officiates have been marrying couples for years and are true professionals.
Lake Tahoe Wedding Ministries
Rev. Dave Beronio Jr.
rev.daveberonio@gmail.com
775-781-1514
"I Do" Tahoe Weddings
Sharon Rusk
sharon@IDoTahoeWeddings.com
775-588-4105
Jackie Phillips Wedding Officiant
https://www.laketahoeceremony.com
775-391-8044
Mountain High Weddings
Christa Deane
http://mountainhighweddings.com/
christa@mountainhighweddings.com
530-906-5572
Ceremonies by Meredith
https://www.ceremoniesbymeredith.com
ceremoniesbymeredith@gmail.com
808-268-7985
Hopefully one of these fine wedding officiates are available for your special day and will be able to marry the two of you.
Another big key item for your Lake Tahoe elopement is finding a photographer that can take photographs during your nuptials. As a Lake Tahoe elopement photographer myself I would say to book me and if I'm not open on your date you should look for wedding photographers that have knowledge of the local area. I know that lots of websites and planners say you should hire a local photographer because they know best which is not true. Honestly most all Tahoe photographers don't even live in Tahoe and live in the surrounding areas. Tahoe is just to dam expensive to live in. This is where you just need to find a photographer who has knowledge of the area and has photographed lots of wedding in and around the Tahoe basin. You'll be able to find this out by looking at websites or calling around.
Lastly, the other important factor when planning to elope or have a small wedding in Lake Tahoe is deciding on a date, which really means picking out a season. Tahoe is one location that differently gets all four season every year. So what season would you like to get married in, winter, spring, summer or fall? Every season has it advantages and disadvantages.
We'll start off with winter elopements in Tahoe. If you're into snow and a winter wonderland than look no further than hosting a small wedding or elopement during the winter months. The upside of getting married in the winter is that it's not as crowded as the summer. Though it does have more crowds compared to fall and spring it's just that those crowds are on the ski hill and not on the lake shore. You'll also have no problem picking a date since most all venues will have your date open and you'll be able to elope on the lake shore with out any beach goers bothering you. The downside to winter weddings is that it's cold, which is a no brainer.
Spring elopements are great as the snow is melting and all the ski crowds have left Lake Tahoe for warmer weather. Spring is still consider the off season for weddings in Tahoe, which means you'll still have no worries with finding open dates at venues and crowds at popular elopement locations around the lake will not be bad. You will also have a variety of photos with snow still up high and the ground being dry at beaches around Tahoe. Spring is also one of the least crowded times around the Tahoe basin during the year.
Summer elopements and small weddings are the quintessential Lake Tahoe wedding. Who doesn't want to get married during a nice sunny warm day next to the waters edge at one of the most stunningly beautiful lakes in all of America. The downside to summer time elopements and small weddings are the crowds and available open dates. If you plan ahead you'll be able to book a great venue though without hassle. Other than that summer is a perfect time to elope here.
Fall time in my opinion is one of the most amazing times to have your small wedding or elopement take place in the greater Lake Tahoe area. The summer crowds have left and the temperatures have dropped to a comfortable level for staying outside all day long. You'll be able to access the beaches with out walking through a sea of people. The other great thing about fall is all the trees that start to turn colors as the nights get cooler as you go further into fall. The only downside about fall weddings is that they are almost as popular as summer weddings or if not more popular now than summer weddings. With this you'll need to plan ahead so that you can book the location you want along with your vendors.
If you're feeling overwhelmed with planning an Tahoe elopement or Lake Tahoe micro wedding there are people that can help you out. There are wedding planners in the Tahoe area that help couples plan smaller weddings and elopements. These companies can help you find ceremony locations, florist, accommodations, restaurants, wedding cake companies, officiants and many other items that you might need during your special day. If you're not living in the Northern California area these wedding planners can really help you out and find what you need.
Even though you're not going to have a big wedding doesn't mean you have to skip out on all the important traditions and items that most weddings have. Flowers are one of those items that you're still going to need on your elopement day just like if it was a big wedding. A bouquet and boutonniere will still be need for a couple during their special day. Also depending on the size of your elopement you might even need more flower arrangements for a professional Lake Tahoe florist. Below will be a list of the top Lake Tahoe florist that create wedding arrangements for couples no matter what size the wedding is.
Love & Lupines
meghon@loveandlupines.com
530-518-6301
Twine & Dandy Floral Design
twineanddandy.com
info@twineanddandy.com
530-494-9330
Thran's Flowers Shop
info@thransflowers.com
530-544-1171
Rose Petals Florist
775-586-8811
To recap all the elopement and Tahoe micro wedding information listed above will be my top 5 tips on how to plan a Lake Tahoe elopement or small wedding.
Number one would to be pick a date and season that fits your needs and weddings needs
The second tip would be picking out a Lake Tahoe wedding venue or location around the lake or surrounding area for your elopement or intimate wedding.
My third tip would be hiring an amazing Lake Tahoe elopement photographer to capture these once in a lifetime moments.
My fourth tip is to hire an officiant in the area to marry you and maybe help you out with a Forest Service permit to elope at some locations around the lake.
My fifth and final tip would be to find out where you need to go in order to obtain an marriage license to officially seal the deal and make your wedding ceremony legal.
The other information that I have list above is to help you out even further and point you in the right direction so that you end up having a close to perfect wedding day. Cause lets face no wedding is ever perfect.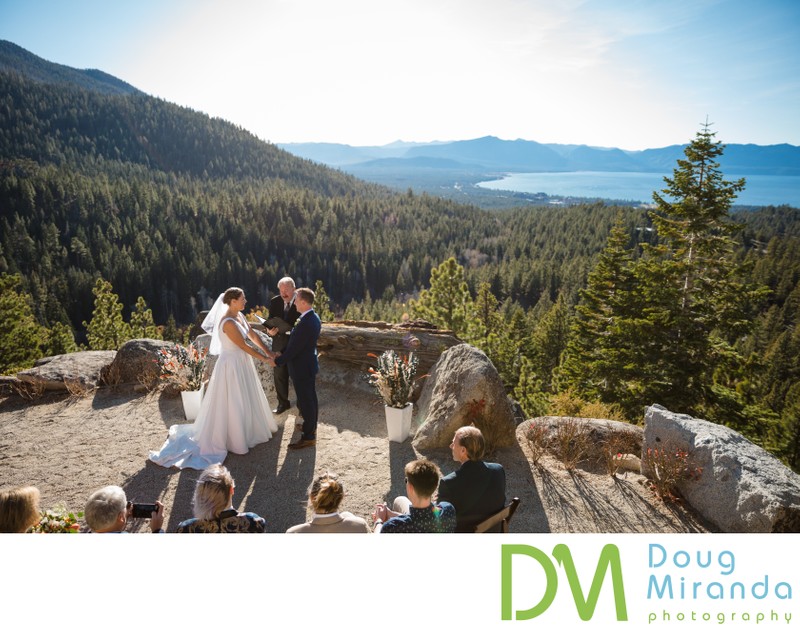 If you are interested in having me photograph your wedding day please fill out the contract form on this website. You can also email me directly at doug@dougmiranda.com or give me a call at 916-422-2256. I look forward to hearing from you and know you're going to have a wonderful wedding day.