South Lake Tahoe Wedding Photographer
South Lake Tahoe wedding photographer Doug Miranda Photography has been capturing photos of couples in the Tahoe area since 2007. After receiving his BA in professional photography from Brooks Institute of Photography he moved back to Tahoe to start up his photography business and has been loving every second of it since. The greater Tahoe basin area and surrounding Sierra Mountain range is a dream location for wedding ceremonies and receptions, which makes this area a popular destination for couples and photographers wanting to capturing images of these newly weds.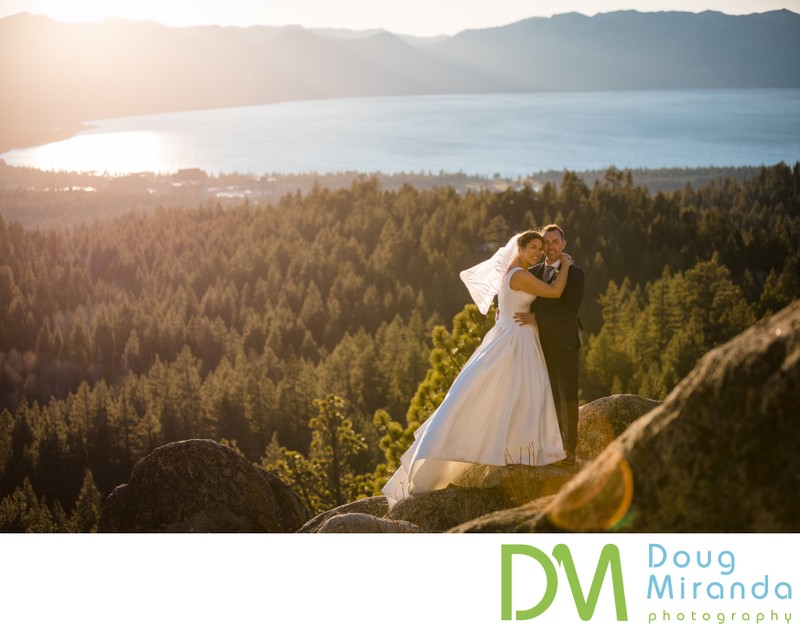 As a newly engaged couple it can seem like information over load when you google South Lake Tahoe wedding photographers and see the loads of websites and paid advertising pages to click on with the endless amount of photographers on those pages. One of the first things I would recommend for couples to look for in a photographer is to see if their images speak to them. I know this seems lame, but if someone has amazing reviews and is recommend by venues and other professionals but you really don't like the pictures they take then please move on. This is one of the most important days of your lives and you should really find someone that you immediately fall in love with their photography.
Another item to consider when looking for a wedding photographer is to see if they've taken pictures at the venue you're going to get married at. Even though you should consider this I personally don't see it as a good or bad thing. I think both camps are good if they've photographed at your venue or not. The pros of finding a photographer that has worked your venue before. Is that they are familiar with the location and grounds. Most likely they already know where the good locations are for having your portraits taken at and when certain areas are in good light. They also might understand how the flow of the wedding happens at that particular event center. Then the pros of finding a photographer who hasn't worked at your wedding venue is that they can photograph your wedding with open eyes and not have a clue of hitting up the same popular spots to take your photos at that others do. This means they can find new and interesting locations and lighting that will give you super unique pictures on your wedding day. They are also more apt to take chances to get you great photos then staying in the comfort zone that most wedding vendors do who work the same location over and over. So that's why it's not that important to having to find someone who's worked at your venue before.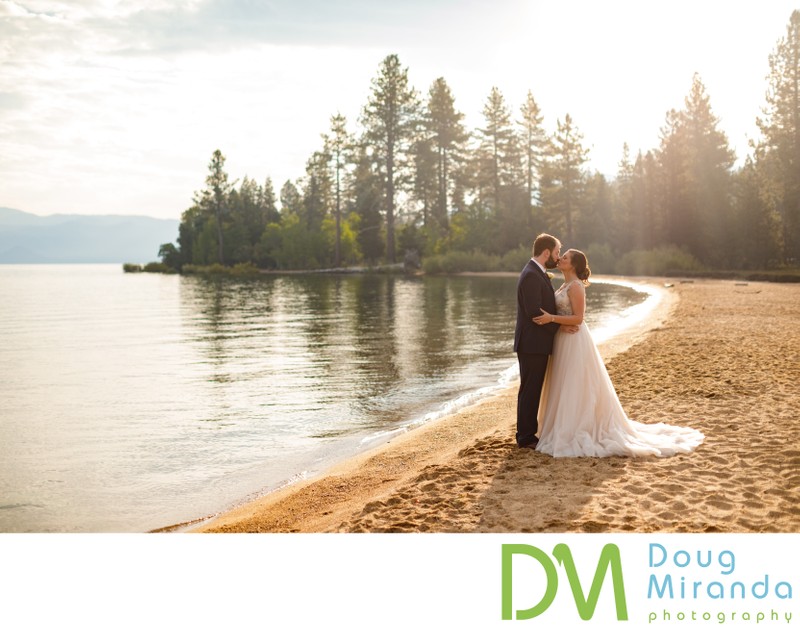 Here's a list of some favorite South Lake Tahoe wedding venues that Doug Miranda Photography loves to work and create wedding photos at.
Tahoe Blue Estate
Edgewood Tahoe
Valhalla Tahoe
Round Hill Pines Beach Resort
Zephyr Cove Resort
Lake Tahoe Golf Course
Riva Grill
Lakeside Beach
The Landing Resort
Heavenly Ski Resort
Emerald Bay State Park
Another important item to look for when hiring a Lake Tahoe wedding photographer is their knowledge of the local area. This means just knowing their way around the town and knowing those secret locations to go to on the day of. Tahoe is a huge area so it's nice to know that the person you're hiring has some whereabouts of the local area. This can help on busy summer weekends when the traffic is horrible and they're able to show up on time or get from point A to point B without being late and also help you out in the process too. Far too often I hear horror stories about vendors that aren't familiar with Tahoe and the summer traffic and leave what they think is on time and in turn they end up showing up late because of traffic jams and just getting lost. The other plus to having someone who knows their way around is finding those out of the way spots or secret locations that are out of the way and will have little to no people at. This comes in handy if you're wanting to take photographs on a crowded weekend, but don't want hundreds of tourist or beach goers in your wedding photos. At that same time I'm not saying you need to hire a local photographer just one who has knowledge of the local area. Most all Tahoe wedding photographers who say they are local are not and live else where like Sacramento and the Reno area. Let's face it Tahoe is a super expensive place to live and really tuff to become a home owner at do to the high real estate prices.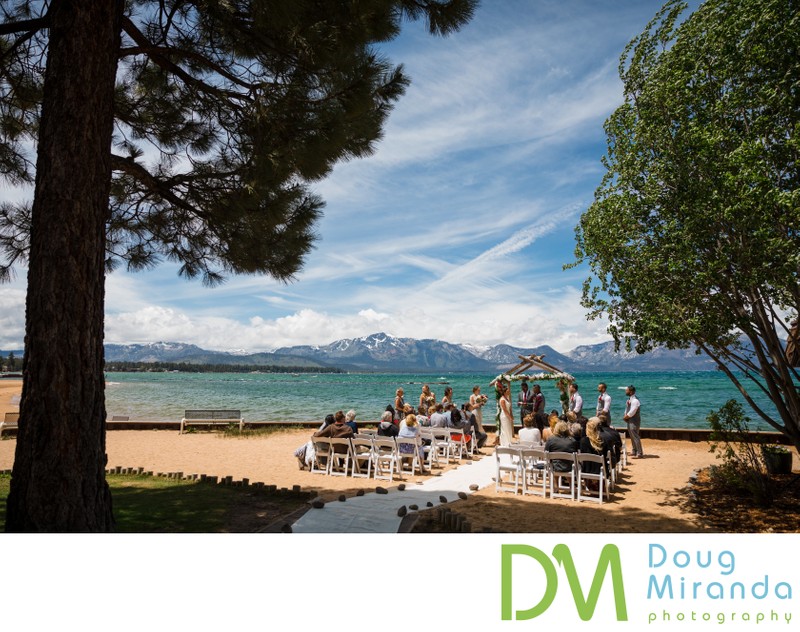 One big deciding factor in finding a photographer to photograph your wedding is how long they've been in business for and how many weddings have they actually have photographed. I know when I first started out this one was one of the main reasons I didn't book a job because clients wanted someone who had more knowledge and time under their belt photographing weddings. When I was younger I thought this deal breaker was a bunch of bull, but now I completely believe this to be true. On the wedding day things are happing so fast that if you're unexperienced and don't know how to solve problems on the fly things can go south really quick which could have a great effect on the wedding day or your wedding pictures. Sometimes it's small things like knowing when to leave a room when someone is really stressed out before the ceremony or having back up camera equipment just in case something important breaks during the day. Trust me something will eventually break and you'll need back up in order to finish a couple's wedding day. It's happened to me a couple times before and thank god I always have a backups to still be able to create images for my couples. Another thing that comes with hiring an experienced photographer is they'll know the flow of a normal wedding day, what pictures to take, now when the best lighting will happen and be able to anticipate important moments that happen during these events. The other common place thing is knowing if they actually have a business license and business insurance. You think this would be something that you would do first off when starting a business, but there are many people out there who have been operating for years without both these important items.
Booking a wedding photographer can be a long process, but once you find those photos that speak to you, you'll know that photographer is probably the right person for your big day.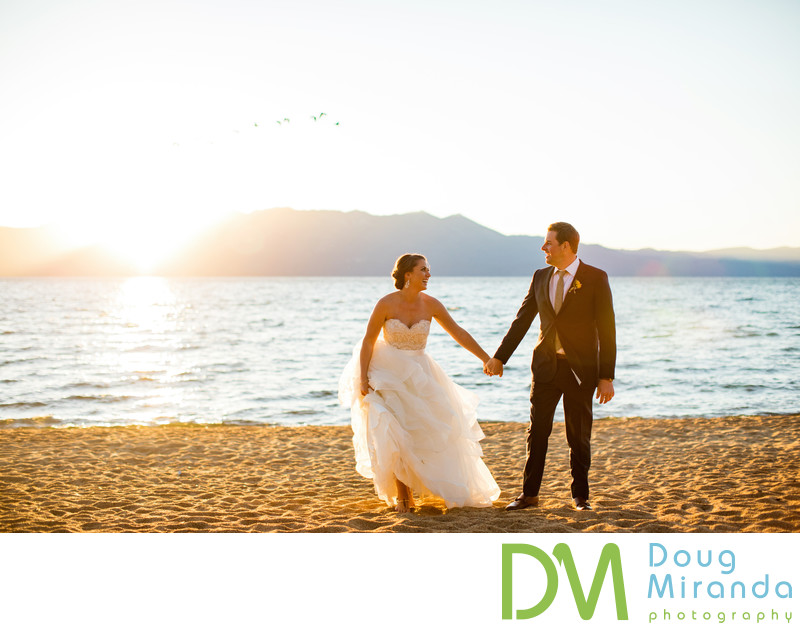 Here are my top 3 factors that go into finding the right South Lake Tahoe wedding photographer for your special day.
Number one deciding factor is does their wedding photographs speak to you i.e. do you love their work.
My second factor is how long they've been in business for and their experience level with photographing these kind of events.
The third factor is does the person have local knowledge of the surrounding area of Tahoe, which can make or break your big day.
If you are interested in hiring Doug Miranda Photography photograph your wedding day please fill out the contract form on this website. You can also email him directly at doug@dougmiranda.com or give him a call at 916-422-2256. I look forward to hearing from you.