Suisun Valley Inn at Monroe Ranch is one of the top wedding and event venues in the Fairfield and Northern California wine country area. This massive estate was established on 27 acres of land, which is surrounded by local vineyards. When you reach this venue you'll drive up the long tree lined driveway that leads you to the front of the massive estate that looks like an old time historical mansion. This huge white estate is supported by four giant white columns that gives it that elegant and classic feel to it. This wedding venue is definitely one of the best options to host your wedding at in the Fairfield area.
The Suisun Valley Inn can accommodate up to 16 overnight guest, which makes it a perfect venue for getting ready at on your big day. The estate has 8 guest bedrooms, which will leave you with enough options for you to pick from for a bridal suite and a groom getting ready area. It's always a huge plus when you're able to get ready at your wedding venue, since the getting ready portion of day is usually what causes most weddings to run late. By being able to get ready here you'll feel more relaxed and ready to walk down that aisle to tie the knot. Once everyone is ready you'll be lining up for the ceremony part of the day.
Ceremonies at the Suisun Valley Inn can be held in a couple of locations on the property. The first location for a ceremony is the white gazebo, which is located on the giant grass lawn. The gazebo and giant trees behind it will be the backdrop as you recite vows. The other area that couples pick to hold their ceremony at is on the opposite end of this lawn area. This spot is lined with some trees and the vineyards that are property. You'll also have local foothills as a backdrop too. If you're looking for more of a winery and vineyard feel to your big day than this ceremony site is for you. The other plus to this site is that sun will be at your back during the ceremony, which means no sun in your face. No one likes to have squinty eyes in photos and especially your wedding photos. Both of these areas are beautiful and one of the main reasons couples book this event center for their special day.
Once your ceremony is over your guest will be able to enjoy cocktail hour on the back lawn area and behind the estate. During this time of the day you'll be having your formal family portraits taken, along with your bridal party pictures too. Once this over you'll finally have some time to have your Suisun Valley Inn wedding photographer capture your couples portraits of the two of you around the grounds. There are a ton of options to choose from. You have the treelined driveway, the vineyard area, the front of the mansion and the forested area behind the house. This will give you plenty to work with to create those magical photographs. I would highly recommend to go back out at sunset for some more portraits. This venue is situated perfectly for sunset photos especially in the vineyards. Anyone looking for those classic wine country wedding photos should take advantage of this time. Once the photography part of the day is over you'll head back to your cocktail hour to mingle with guest.
Wedding receptions and dinners take place behind the estate in the shade of the giant house, which is a plus on those hot summer days. The grassy lawn back here is an open slate on how you want your reception to be set up. There are plenty of ways to have your tables arranged and where you're going to set up your dance floor for the evening. This location also has giant hanging market lights that are strung around the area to give you that warm feeling when the sun goes down for the day. Besides this spot for receptions the grounds can also accommodate large event tents if they are needed for bad weather or if a couple desires to have one for their dinner and reception events. Overall the inn is a perfect place to host receptions and dinner events.
Here are my top two reasons why you should host your wedding at the Suisun Valley Inn at Monroe Ranch.
My number one and top reason you should host your wedding at Suisun Valley Inn is the jaw dropping beauty of this private estate and vineyard. This is hands down one of the most elegant venues in the Fairfield and Northern California wine country area. Once you see this site with your own eyes you'll understand what I'm talking about. Photographs do not do this place justice. There is a reason why this locations books out year after year.
The second reason you should host your wedding here is having a wine country wedding without having to step foot in Napa Valley or the Sonoma area. Yes, we all know that Napa and Sonoma have some amazing wedding venues, but with that comes the horrible weekend traffic and loads of tourist that flock there. The Suisun Valley Inn is located just outside the valley, but still part of wine country and gives less of a head ache when it comes the problems of Napa and Sonoma.
If you're a newly engaged couple looking for a private estate and vineyard wedding venue then you should put this location at the top of your list for sites to take a visit of. You'll be glad that you did once you're able to walk around and see this site for yourself.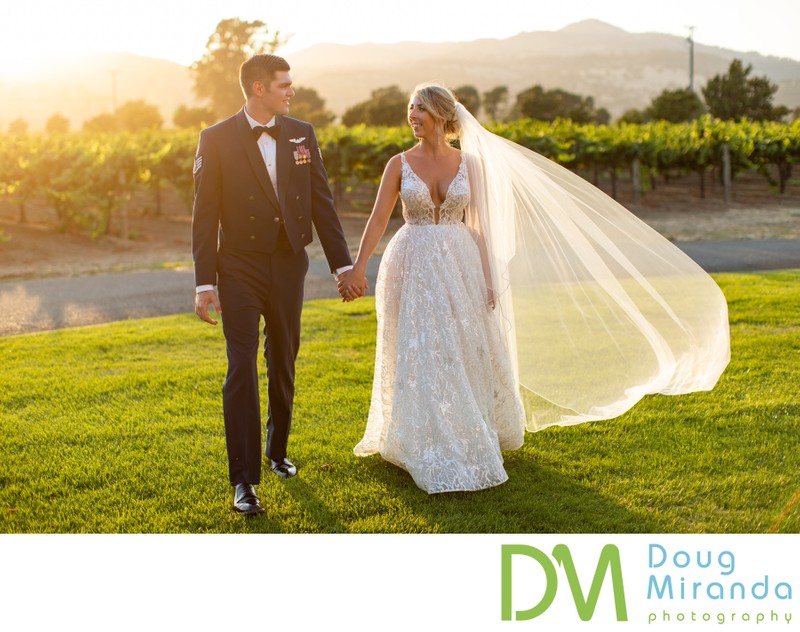 Here's a list of unique services that Suisun Valley Inn at Monroe Ranch offers for every wedding and event that they host.
Outdoor reception site.
Outdoor ceremony site.
Gazebo area for Ceremony.
Bridal suite.
Groom's suite.
Up to 250 guests capacity limit for a ceremony and reception.
Reception tables and chairs.
Market lights for evening events.
On-site parking for up to 120 cars.
Expansive lawn area for ceremonies, cocktail hour, receptions and games.
On-site overnight accommodations for up to 16 guest.
Ceremony chairs.
Handicap Accessible.
If you are interested in having Doug Miranda Photography photograph your wedding day please fill out the contract form on this website. You can also email me directly at doug@dougmiranda.com or give me a call at 916-422-2256. I look forward to hearing from you.