Top Sacramento Wedding Venues
Top Sacramento Wedding Venues
My name is Doug and I'm the sole photographer of Doug Miranda Photography. I have been photographing weddings since 2007 and this list includes all the unique and amazing wedding locations in the greater Sacramento area that I've had the privilege to work at over the years. The city of Sacramento and the greater metropolitan area have many wedding venues to choose from, which can be overwhelming for a newly engaged couples to pick from. This list will include locations from downtown, the surrounding cities, foothills, wineries and the delta region. Hopefully this best of list will help you find your dream wedding venue. All of these venues are wonderful, which is why they are not ranked and in no particular order to which one is the best. They are all favorites to the couples who choose to get married at them.
All photos and slideshows created by Doug Miranda Photography.
Vizcaya
Vizcaya Sacramento is located just outside the downtown area in a stately old Victorian home. Next to the Victorian home is the grand pavilion ballroom that hosts reception parties and meals. Ceremonies will take place outside in one of the beautifully manicured courtyards. The surrounding grounds are well kept up and gives this venue that wow factor. This event center is an all inclusive site, which makes it easier for couples planning their special day. This location is perfect for a couple who wants to stay close the the city and downtown area.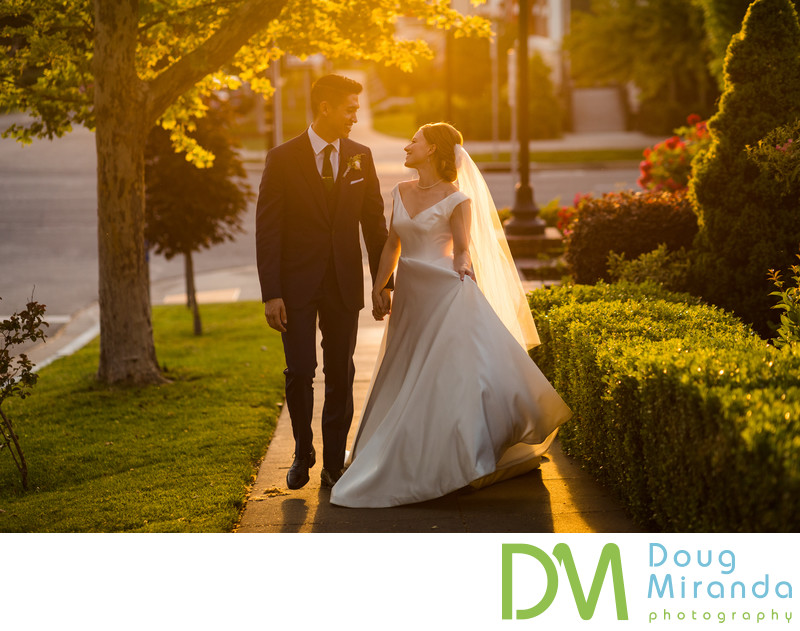 916-594-9285
2019 21st Street, Sacramento, CA 95818
The Citizen Hotel
The Citizen Hotel, Autograph Collection is situated in the heart of downtown Sacramento and has amazing views of the state capitol building. This hotel is one of the last standing historical buildings in Sacramento. It was built in 1925 and was one of the earliest high rises in Sacramento. It served as the California Life Insurance building for many years. This historical building now host 198 boutique hotel rooms and is home to the Grange Restaurant. The Citizen Hotel hosts wedding and events year around on the 7th floor in the Metropolitan Terrace room and on the ground level in a gorgeous ballroom. If you're looking for true all inclusive downtown venue you should pay them a visit.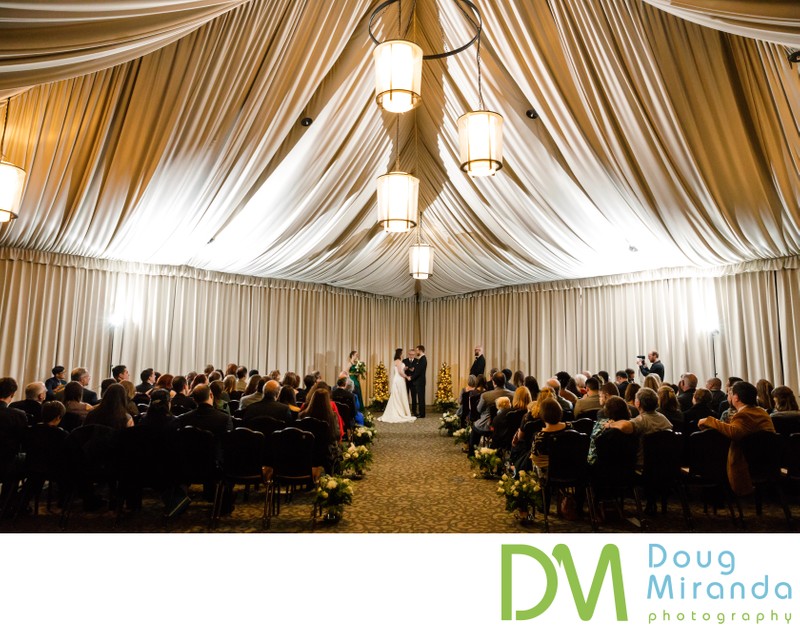 916-447-2700
926 J St, Sacramento, CA 95814
Grand Island Mansion
The Grand Island Mansion is the crown jewel of wedding venues in the California Delta located near the charming town of Walnut Grove. Honestly, I think it's one of the best wedding locations in all of the greater Sacramento area. If you're looking for more of an elegant and formal wedding ceremony and reception location. You can not beat this location when it comes to the wow factor of the estate grounds and everything around the property. The front pillars of the mansion are just massive and one of the many features of this wedding venue has to offer. The Mansion itself is so fun to walk around in and see all the different rooms. I'm sure you'll get lost the first couple of times walking around the estate.
916-775-1705
13415 Grand Island Rd, Walnut Grove, CA 95690
The Firehouse Restaurant
The Firehouse Restaurant is one the top wedding and event venues in the greater Sacramento area of Northern California. The Firehouse Restaurant is located in historical Old Town Sacramento area of downtown.The red bricked building dates back to 1853 as one of the original fire houses in Sacramento. This location reminds me of something you would find in New Orleans, not Sacramento. The building is nestled along the wooden plank walk ways that connect the other shops along the old cobble streets of Old Sac. This historic restaurant opened in 1960 and is still in operation today for dining service and special events. It has been voted one of the most romantic restaurants and best wedding venues in all of Sacramento California. The Firehouse is also named by Zagat as one of "America's top Restaurants". This dinning establishment is a true gem of the city.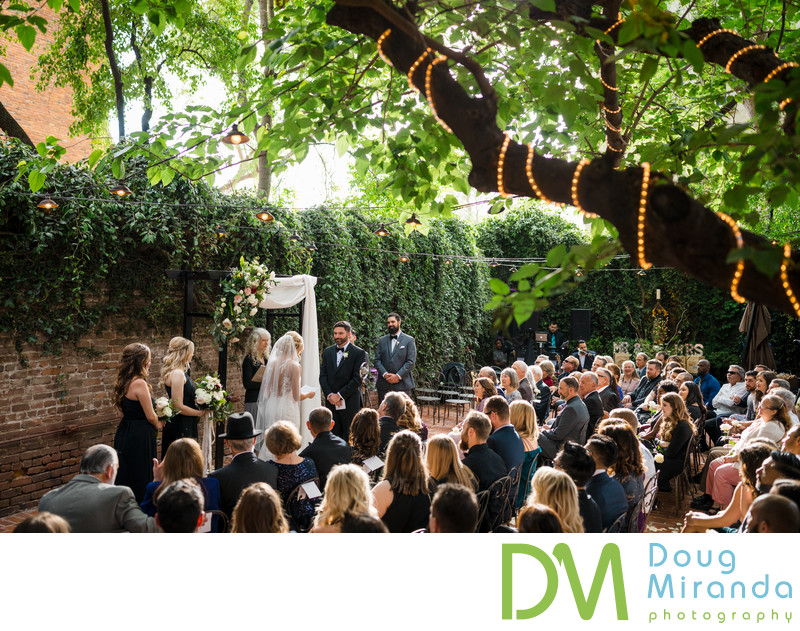 916-442-4772
1112 2nd St, Sacramento, CA 95814
Sterling Hotel
The Sterling Hotel by Wedgewood Weddings is a turn back the clock vintage Victorian style building located on a quiet outlining street of downtown Sacramento California. This wedding venue has some unique charm that most of the other venues in downtown Sacramento lack. The Sterling Hotel can hold indoor and outdoor wedding ceremonies year around. The outdoor ceremonies are held in their side courtyard and indoor nuptials are held in the grand ballroom. This is truly a unique downtown event center.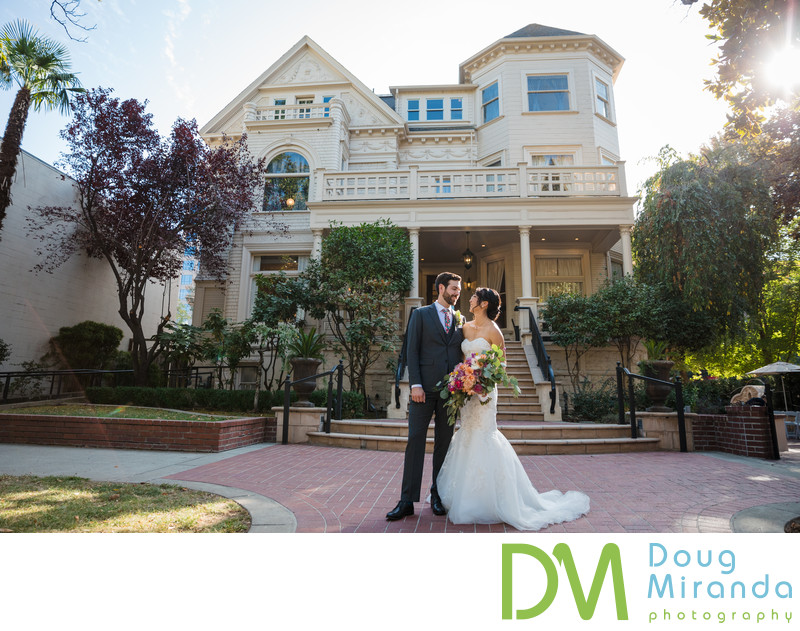 916-448-1300
1300 H St, Sacramento, CA 95814
Old Sugar Mill
The Old Sugar Mill is a rustic wine tasting complex that host weddings and events in the small California Delta town of Clarksburg. It's located just 15 minutes south of Sacramento as you drive along the picturesque Sacramento River to reach this wonderful wedding venue. The venue is a cross between a vineyard winery and has that architectural urban feel with how the old buildings that use to produce sugar look. There is really no other event center like it in the area. This is one of the many reasons this delta wedding venue is so popular and is booked out months in advance.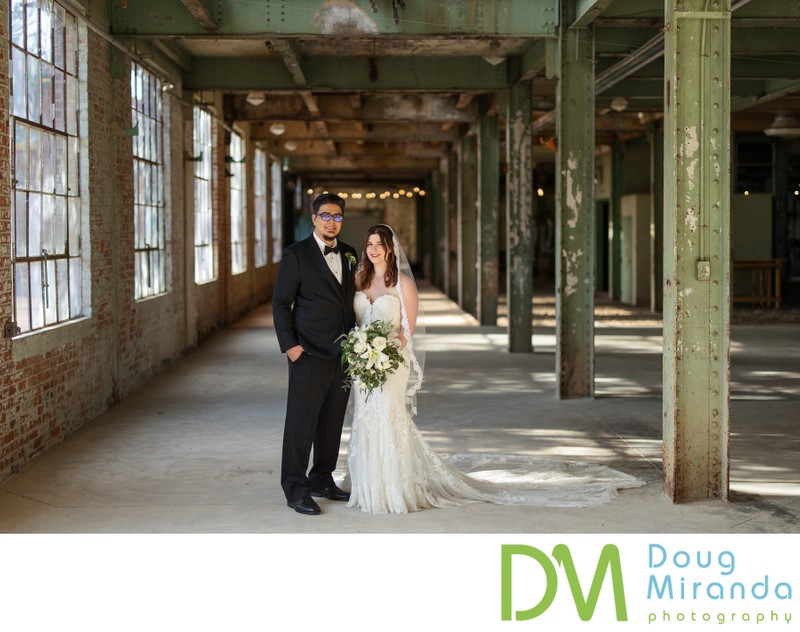 916-744-1615 Ext: 1005
35265 Willow Ave, Clarksburg, CA 95612
Catta Verdera Country Club
Catta Verdera Country Club is located near the Sacramento foothills in the city of Lincoln California. This luxurious country club is situated on 335 acres of the rolling foothills. Weddings and events take place at the country club's golf course club house. The club house was built with a Spanish style mission in mind and would fit in architecturally with the rest of the California missions. With its huge steeple and arch filled outdoor hallways. This club house is very unique to the greater Sacramento area and there is nothing quite like it in the local area. The grounds that surround the club house are kept up immaculately, which makes this venue more appealing to couples who want to host their special day here.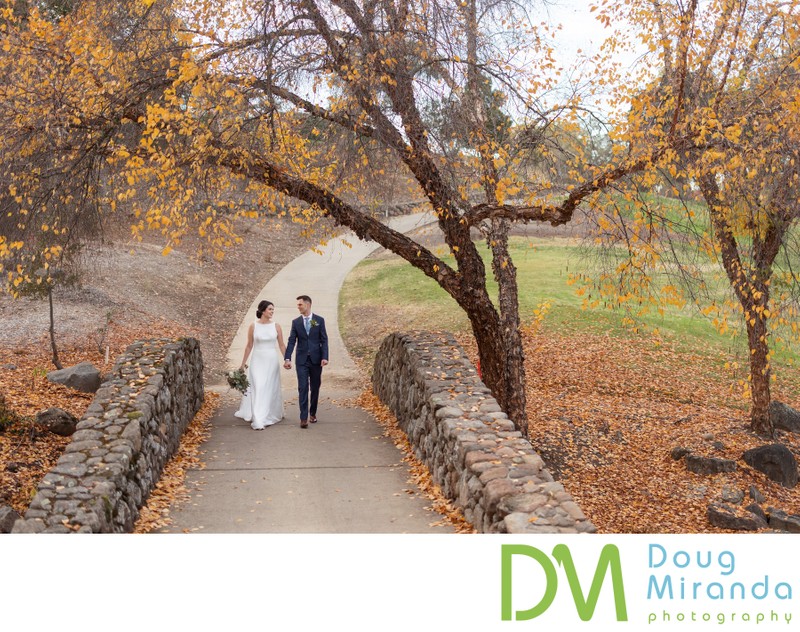 916-645-7200
Catta Verdera Clubhouse, 1111 Catta Verdera, Lincoln, CA 95648
The Pavilion at Haggin Oaks
The Pavilion at Haggin Oaks Golf Course is the closet Sacramento golf course venue in to the city. The event center is located on the edge of the course with a huge white reception tent that can accommodate up to 220 guests. Next the to the tent are a couple outdoor areas that Haggin Oaks will let you host your ceremony at. They are all pretty and within close walking distance to the reception area. This golf course has many of stunning outdoor areas to have your portraits taken at.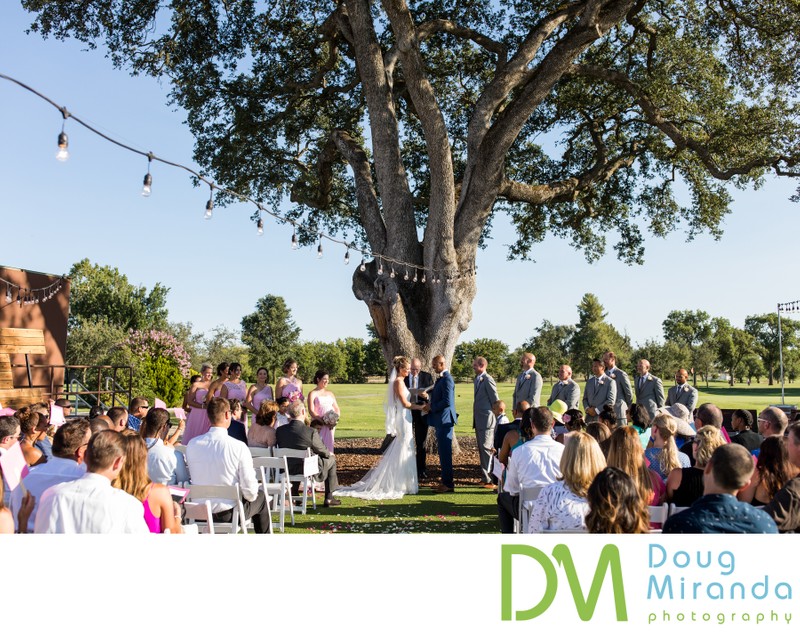 916-808-0957
3645 Fulton Ave, Sacramento, CA 95821
Wine & Roses
Wine and Roses is one of the premier wedding and event centers in the heart of Lodi California wine country. Wine and Roses is also a luxury hotel that has wine tasting rooms and a spa. The event centers offers all the amenities that a wedding could ever want, which makes it one of the most highly sought after event centers in the Northern California area. Wine and Roses is a one of a kind location that is booked out almost every weekend of the year. If you're one of those couples that would like to host your wedding here please contact their wedding planner so you can take a site visit of this amazing event location.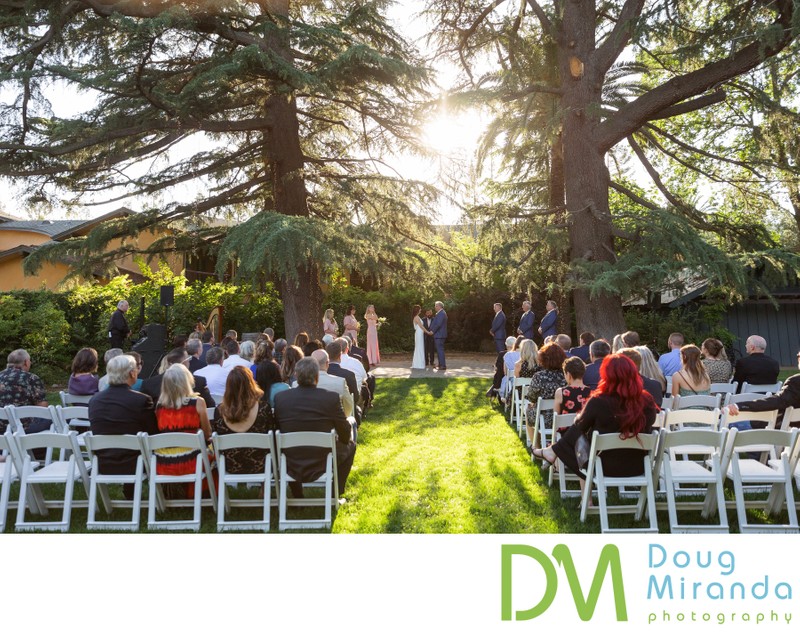 209-334-6988
2505 W Turner Rd, Lodi, CA 95242
Hyatt Regency Sacramento
Hyatt Regency Sacramento is located in the heart of downtown and is just across the street from the state capital building. This venue has the ability to host an outdoor ceremony or an indoor one in one of its elegant ballrooms. Receptions can be hosted also in one of their lower level ballrooms or at the top of the building in their one of a kind luxury event room that overlooks the California State Capitol and the surrounding downtown area.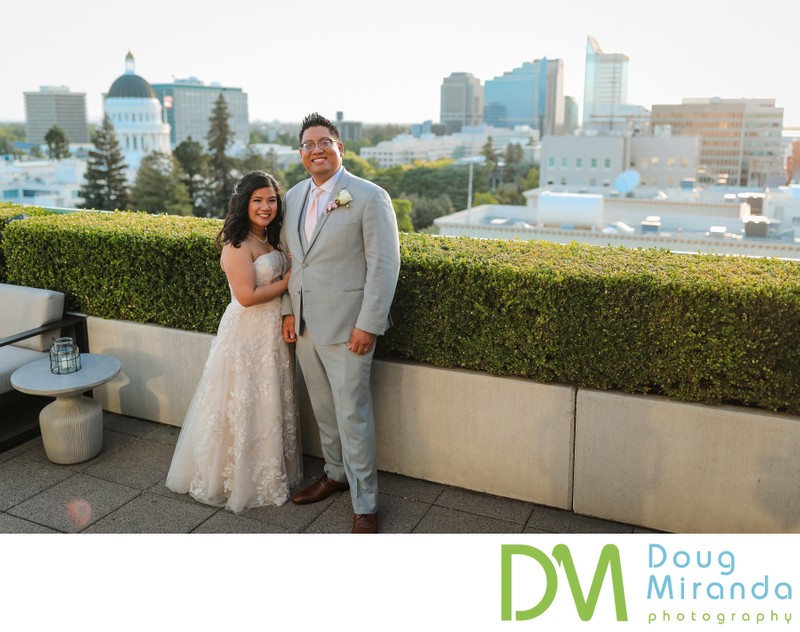 916-443-1234
1209 L St, Sacramento, CA 95814
Forest House Lodge
The Forest House Lodge is located in the Sierra foothills of Northern California in the small quaint town of Foresthill California. The lodge is located right off the main street and is a quick drive up the hill from Sacramento and the surround foothill communities. The lodge is an all inclusive venue, which means that you'll be the only one getting married there that day. The lodge has 27 hotel rooms and can sleep up to 70 guest in those rooms. Located about a mile up the road is the ceremony site at Grand Sierra Point. The ceremony site is located just at the edge of a clearing in the forest with stunning views of the foothills, canyons and the greater Sacramento area. Receptions, meals and dancing will take place back at the lodge.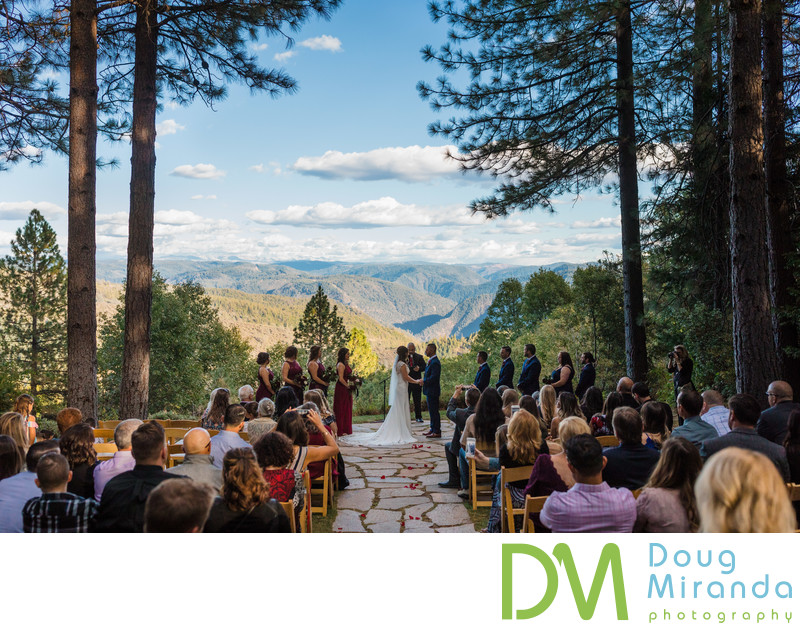 530-363-1377
24590 Main St, Foresthill, CA 95631
Flower Farm Inn
The Flower Farm Inn is a quaint working farm that is also used as a wedding and event venue. It's located just outside of Sacramento at the base of the foothills in Loomis California. Among the grounds are a working citrus orchard. It also has a cafe, wine tasting room and a bed and breakfast on site for guest and other patrons to enjoy. The wedding and event venue is located near the back of the property around the bed and breakfast. The ceremony will take place right under a giant oak tree, which is a stunning spot to tie the knot. Your guest will be seated in chairs under the shade of the tree on the well manicured lawn watching your ceremony unfold. The reception building looks like a huge red barn from the outside, but is a spacious ballroom on the inside equipped with all the modern luxuries of today. The room is a blank canvas for you to decorate how ever you want to for your wedding day.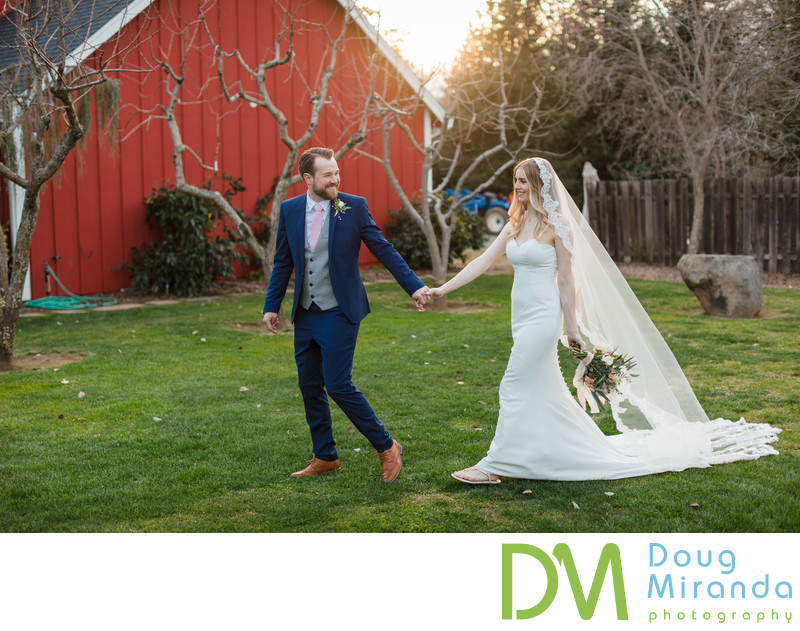 916-652-4200
4150 Auburn Folsom Rd, Loomis, CA 95650
Gold Hill Gardens
Gold Hill Gardens is a private estate and inn located on 38 acres of property just outside of Sacramento in the rolling foothills of Newcastle California. This private estate wedding venue is nestled among the foothills and the natural surrounding oak tree forest. The massive estate and inn is located on top of a hill, which gives you amazing views of the surrounding area and the grounds of the venue. 11 of the acres are well manicured gardens, lawns and forested area. Your nuptials can take place at a couple of ceremony sites that are located around the elegant gardens and grounds. Receptions take place at inside their elegant event tent.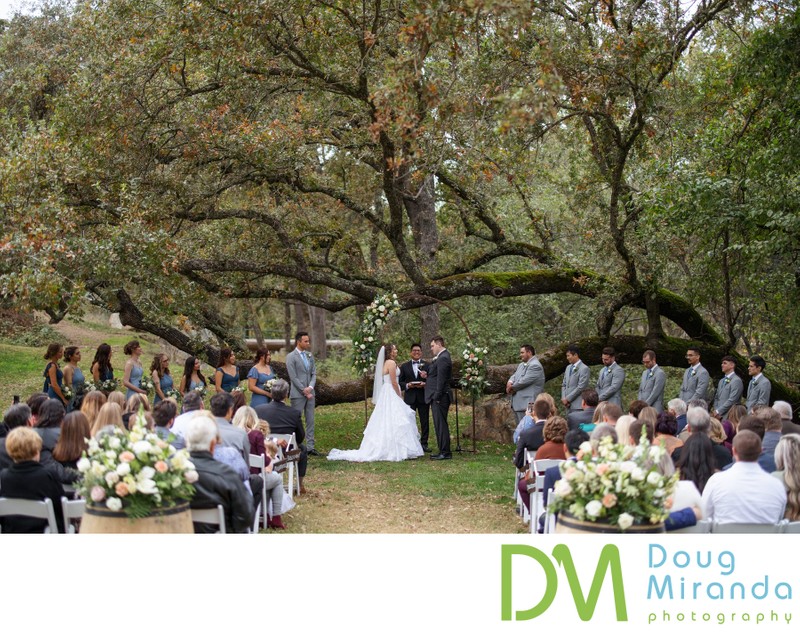 916-663-3060
2325 Gold Hill Rd, Newcastle, CA 95658
Black Oak Mountain Vineyards
Black Oak Mountain Vineyard is one of the premier luxury wedding and event centers in the foothills of Sacramento. Black Oak Mountain Vineyard is located in the town of Cool California, which is just outside the city of Auburn California. This luxury vineyard wedding venue is situated on 150 acres of rolling grassy foothills surrounded by oak trees and vines. There are two buildings on the estate property that can house events. The first on is the modern age barn where weddings and events can take place at. The second is the hill top luxury estate, where weddings can also take place at. The views of the surround area are jaw dropping at the top of this hill.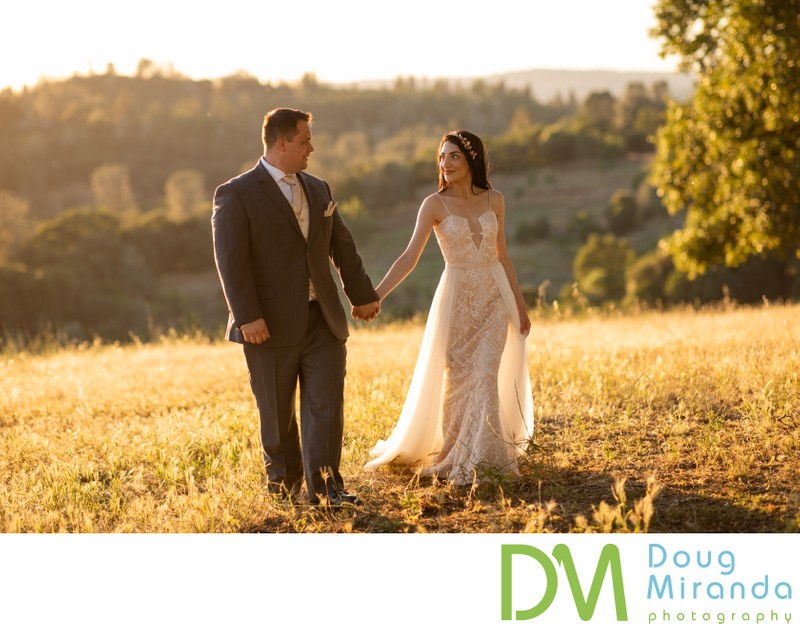 530-802-0062
2480 CA-193, Cool, CA 95614
Helwig Winery
Helwig Winery is a unique and stunning location in the Shenandoah Valley just a short drive from Plymouth California. This winey and event center is located in the foothills just outside of Sacramento, which a popular area to go wine tasting at on the weekends. Ceremonies take place out back in their massive outdoor amphitheater with views of the surround vineyards and foothills. Just behind the ceremony site is the wine cave cellar, which is just simply stunning and very cool during those hot summer months. Cocktail hours are hosted in the wine cave just before everyone goes back up to the reception site. The reception location is a covered outdoor area close to the tasting rooms and has some pretty views of the surrounding rolling hills and you can even see downtown Sacramento on a clear day from up there.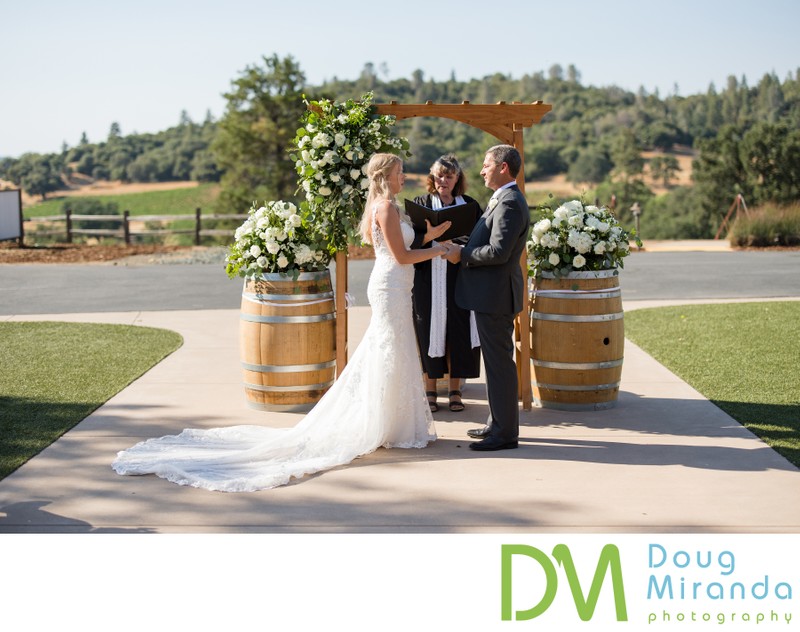 209-245-5200
11555 Shenandoah Rd, Plymouth, CA 95669
Serrano Country Club
Serrano Country Club is located in El Dorado Hills California, which is a short drive from Downton Sacramento. This venue is located on a private golf course, which allows for the public to host weddings on one side of their club house. This club house is located on top of one of the many rolling hills in this area. You have pretty views of the surrounding area and when you walk out onto one of the close by fairways you are able to see Folsom Lake. The ceremony site is located right next to a massive old oak tree that is a short walk for the club house. Reception parities, meals and dancing will take place in the club house. This golf course venue is one of the many hidden gems in the Sacramento area. If you're looking for a golf course wedding then this is it.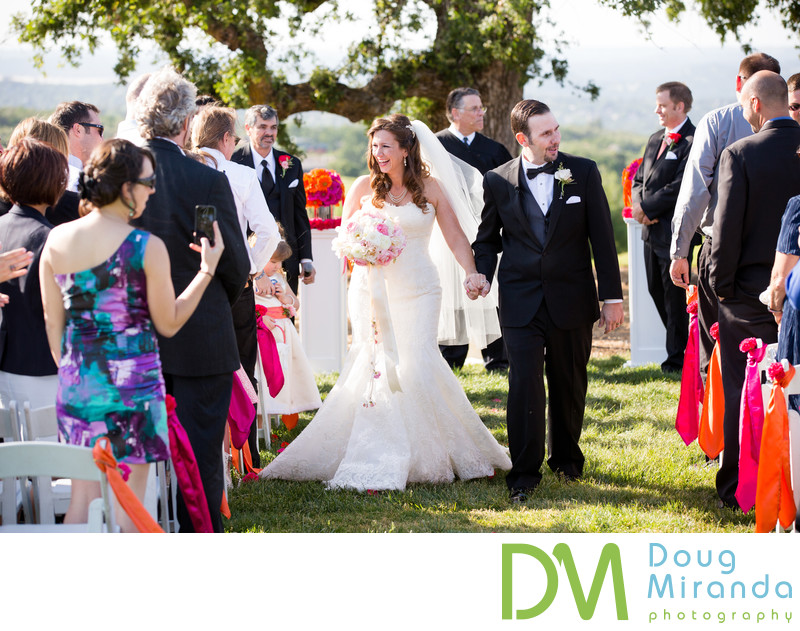 916-933-5005
5005 Serrano Pkwy, El Dorado Hills, CA 95762
Old St. Mary's Chapel Rocklin
Old St. Mary's Chapel is located in the city of Rocklin California. This historical chapel was built in 1883 and was set to be demolished in 2004 until the Rocklin Historical Society took possession of it and had it moved down the street to its current location. The greater Sacramento area is super lucky to have this white chapel to host weddings at. If you're looking for a true white chapel to get married at then this is your spot. The church is surrounded by well manicured gardens and green lawns. You can also host receptions here too at one of the side garden areas that can host about 110 guest. This cute charming chapel is totally worth a visit to see if you can host your special day here.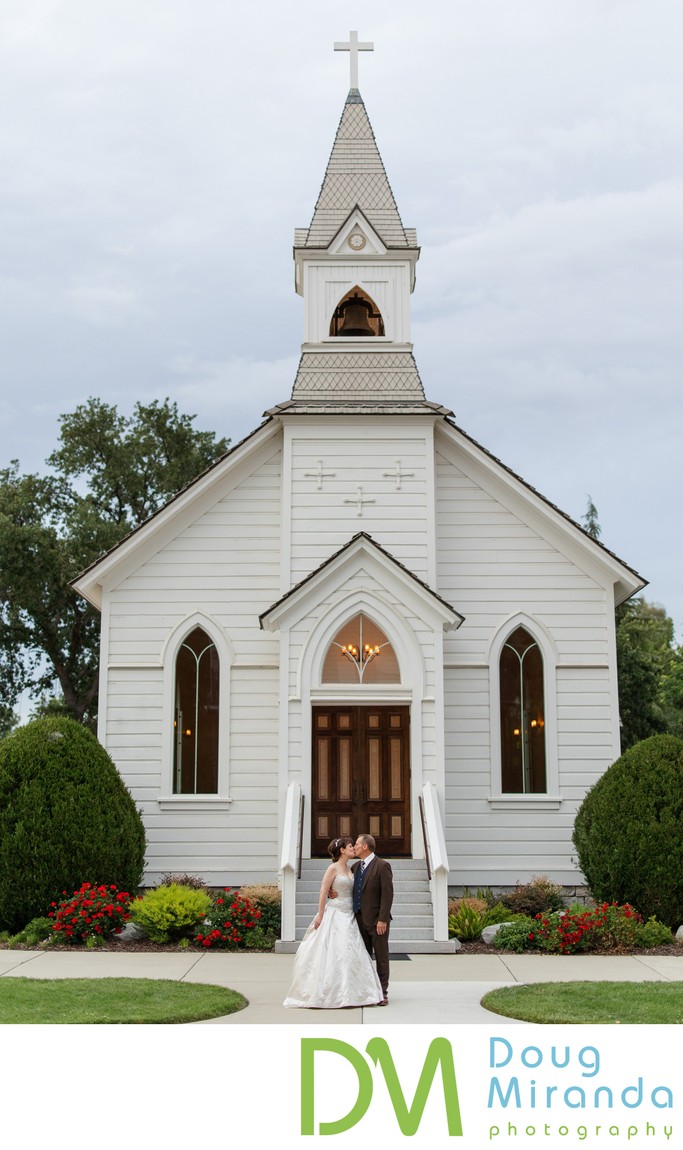 916-415-1150
5251 Front St, Rocklin, CA 95677
The Willow Ballroom & Event Center
The Willow Ballroom is located in the California Delta just out side of Sacramento and is one of the top wedding venues and event centers in the region. The large 11,000 square foot warehouse is located right on the banks of the Sacramento on the river. It has an urban rustic charm that is perfect for creating the wedding of your dreams. Even though it's just 15 miles for downtown Sacramento, you feel as though you have left the city and are out in the country side with no one around for miles. You loose all those city noise and are left with the sounds of birds and rushing water from the river. This venue is a true gem of the Delta region and Sacramento.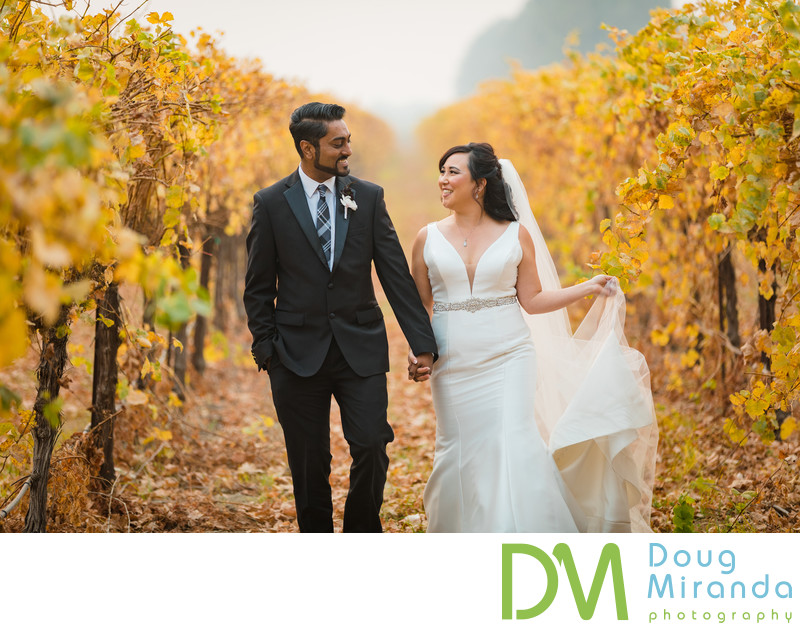 916-209-0309
10724 CA-160, Hood, CA 95639
Taber Ranch
Taber Ranch Vineyard & Event Center is located in the scenic Capay Valley in Northern California and was established back in 1867. This wedding venue is truly a one of a kind location in the Capay Valley and the surrounding area. This wedding venue is located on a 500 acre ranch that is a working vineyard at the edge of wine country in the rolling hills. With that being said this picturesque wedding venue is a dream come true location for many couples looking to get married at a ranch with a vineyard setting.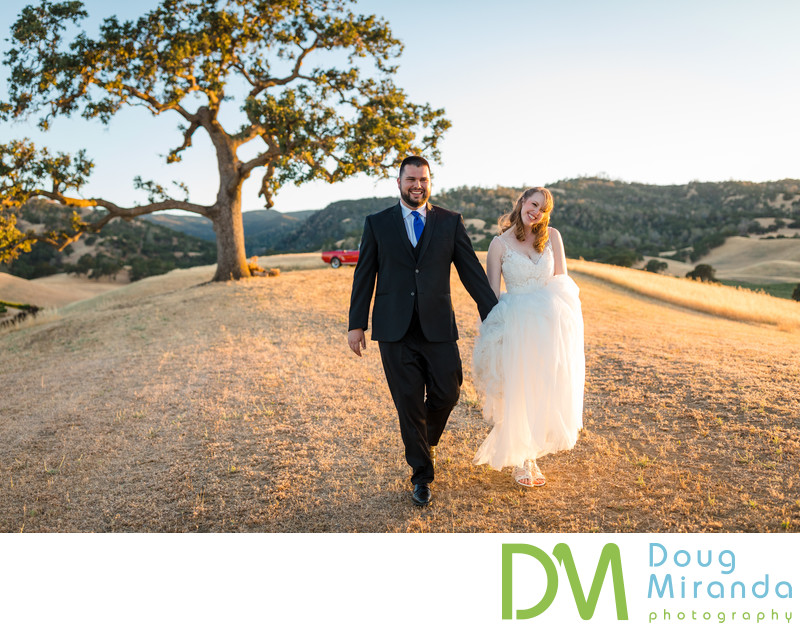 530-665-3691
16628 CR 81, Capay, CA 95607
Cielo Estate Winery, Event & Weddings
Cielo Estate Winery is romantic wedding venue located in the foothills of El Dorado county and is about 30 minutes from Sacramento California. Besides it being an event center it's an active winery and has a spacious tasting room on the property. The sprawling estate covers 17 acres of vineyards, open fields and oak tree forests. On site is an historic old Victorian house from the 1800's that has been restored immaculately. This is the location for the bridal party to getting ready in. Wedding ceremonies take place on a grassy hillside under their iconic white gazebo that is under a huge oak tree. The backdrop is one of the many vineyards on the grounds and more oak trees. Receptions take place in a large event center that has vaulted ceilings with many large windows that let in nice ample natural light into the ballroom. They're a giant back deck to the building where the cocktail hour can take place on with views of the vineyard and forest.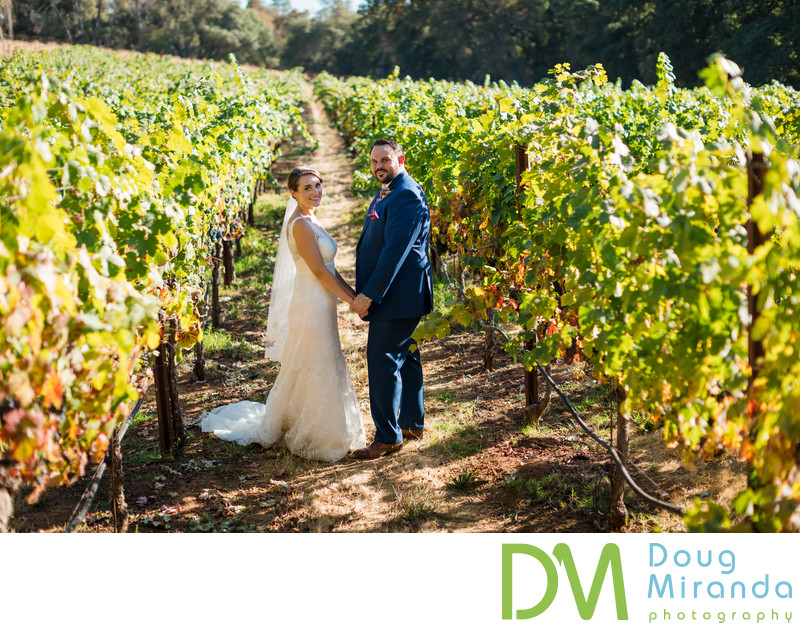 530-672-8575
3040 Ponderosa Rd, Shingle Springs, CA 95682
High Sierra Iris & Wedding Gardens
High Sierra Iris Wedding Gardens is located in the foothills just outside of Sacramento in the town of Camino California. This area of the foothills is know to locals as Apple Hill, which is super popular during the apple season from late September to November. This whole area is so quiet and peaceful, which makes it perfect for weddings. The surrounding grounds are well kept up and has it's own private pond. When the Iris flowers are in bloom you will see the true magic of this location. If you're looking for an outdoor foothill wedding location in the Apple Hill area then this is a must see venue.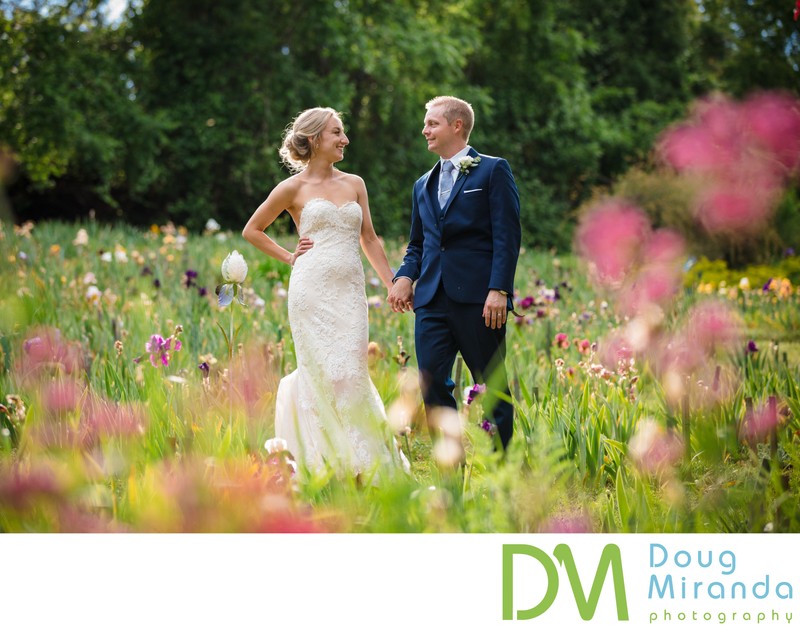 530-642-1222
3170 Hassler Rd, Camino, CA 95709
Mountain Shadows Retreat
Mountain Shadows Retreat is a private estate located in the foothills above Sacramento in the mountain town of Forest Hill California. This private retreat is a perfect location for smaller weddings of about 100 or fewer guest. The venue is located on 1.5 acres of private property right on the edge of a ridge with stunning views of the canyons, foothills and valleys below. The view and forest location is definitely one of the main center points of this wedding venue.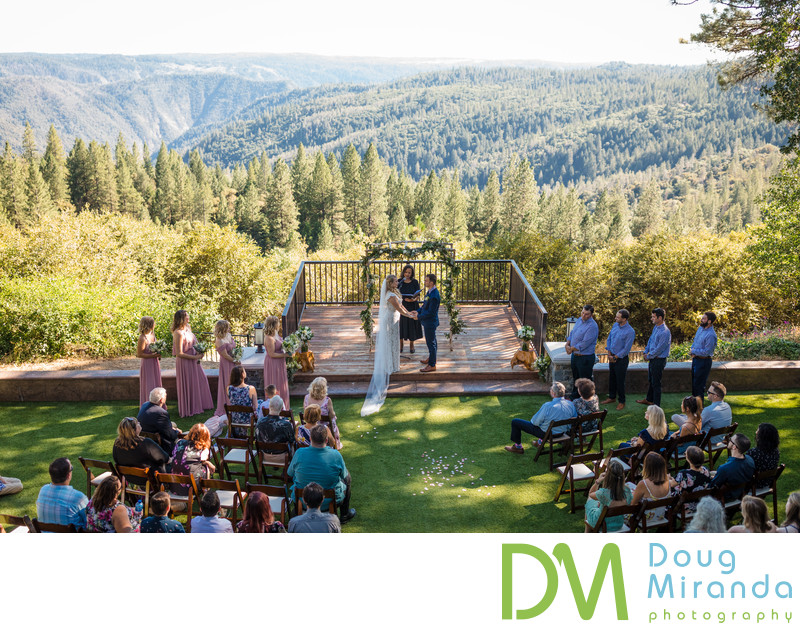 888-674-4933
24260 Mosquito Ridge Rd, Foresthill, CA 95631
Sequoia Mansion by Wedgewood
Sequoia Mansion by Wedgewood is a quant event center located in the foothill city of Placerville California. This huge old grand manor house is a turn back the clock type of location that will make you feel like you've gone back in time. This historical mansion is a such a beauty to host your wedding day at. Ceremonies can be hosted out front on their lawn or in a side courtyard. All receptions, meals and dancing take place inside. They can also host indoor ceremonies in the their sunroom or bigger ones in the ballroom. Since they can host weddings year around this venue is a popular location.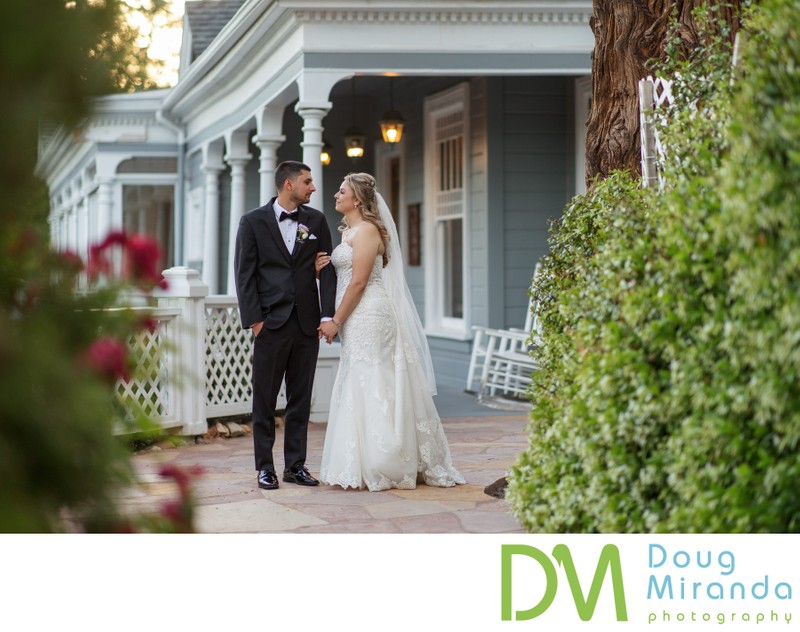 530-364-5453
643 Bee St, Placerville, CA 95667
Heringer Estates Winery
Heringer Estates Winery is rustic and adorable winery wedding venue located south of Sacramento in the quiet California delta town of Clarksburg. Heringer is what you think of when dreaming about a winery wedding. You have access to taking photos in the vineyards, a big up to date wooden barn where receptions take place at. To the side of the barn is a huge open grassy lawn that is shaded by old old oak trees. Ceremonies take place on this shaded lawn that has views of the surrounding area and vineyards. Heringer is one of the closet true winery venues to Sacramento.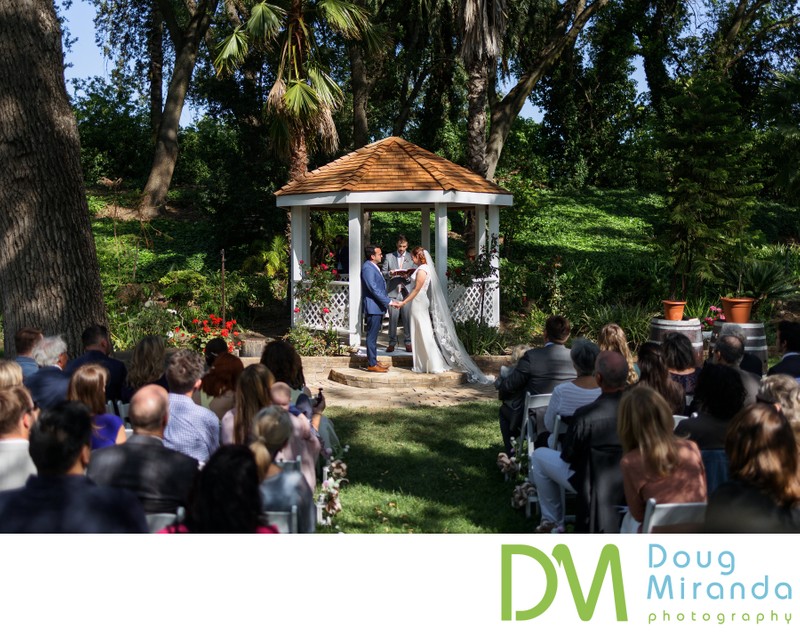 9126-744-1919
37375 Netherlands Rd, Clarksburg, CA 95612
Newcastle Wedding Gardens
New Castle Wedding Gardens is a gem of a venue located at the base of the foothills in the quiet town of Newcastle California. You get the best of both worlds with elegant gardens surrounding the ceremony site and a up to date rustic barn for your reception and cocktail hour. Also located on the 12-acre property is a bed and breakfast in the white turn of the century mansion.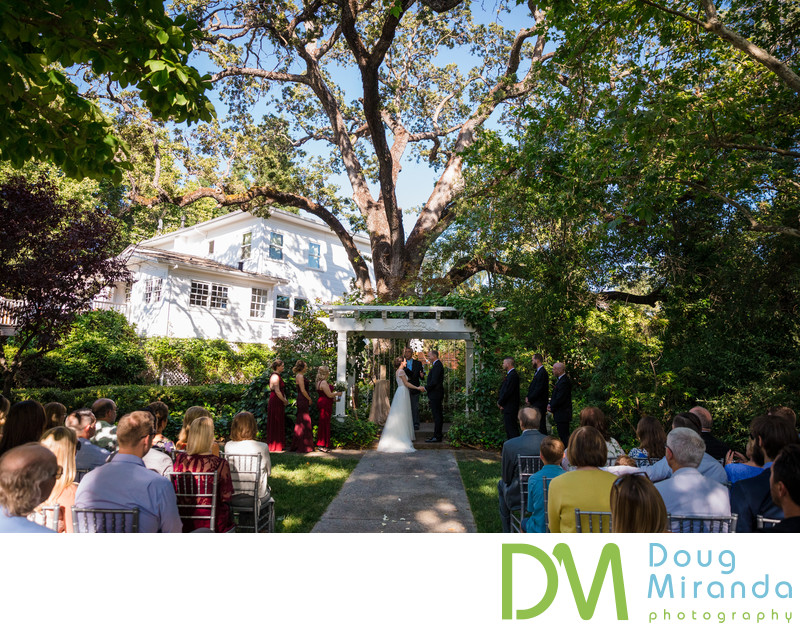 916-417-9765
950 Taylor Rd, Newcastle, CA 95658
Scott's Seafood on the River at The Westin
Scott's Seafood on the River at The Westin is one of the only wedding venues in the Sacramento area that is located right on the rivers edge. Located right behind the Westin Hotel is the outdoor ceremony area and reception site. Ceremonies take place on a grassy lawn right next to the river with an elevated ceremony site for the couple to recite their vows on, which has beautiful river views behind them. Right next to the ceremony site is the elegant reception tent where all your events, meals and dancing will take place during the evening hours. The other plus to this location is having the hotel right next to the venue for getting ready and staying the night at for guest.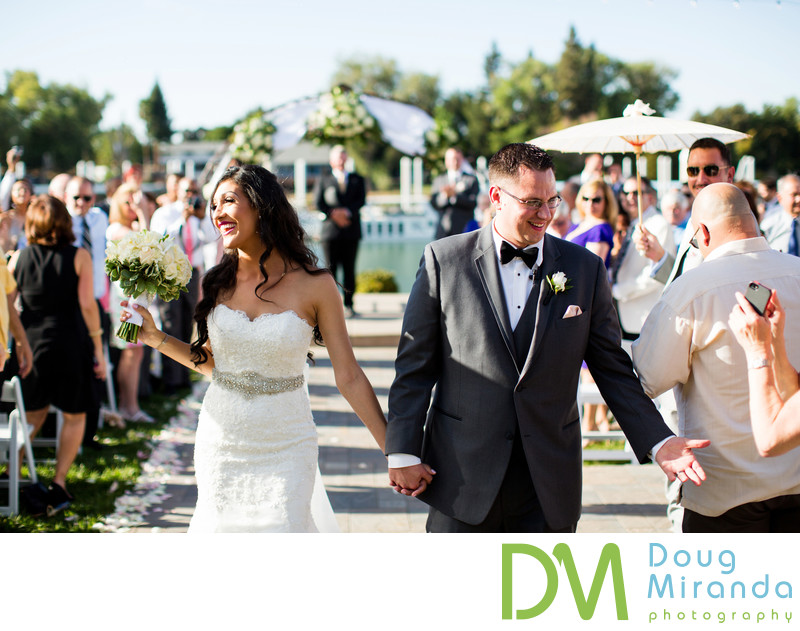 916-379-5959
4800 Riverside Blvd, Sacramento, CA 95822
Empire Mine
Empire Mine State Park is a unique wedding venue located in the foothill town of Grass Valley California. This old gold mine has so much history and beauty that surrounds the grounds. Weddings ceremonies and receptions take place over by the grand old house and well manicured gardens. The whole area is one giant grassy lawn on the rolling hills around the property and structures. They also have a refection pool that has a water feature flowing into it. There is also a huge rose garden behind the main cottage house. In front of this house is where ceremonies take place at. Receptions take place down below the hill on an huge outdoor area next to another old building. This venue is a photographers dream since there are some many amazing photo opportunities around the elegant grounds.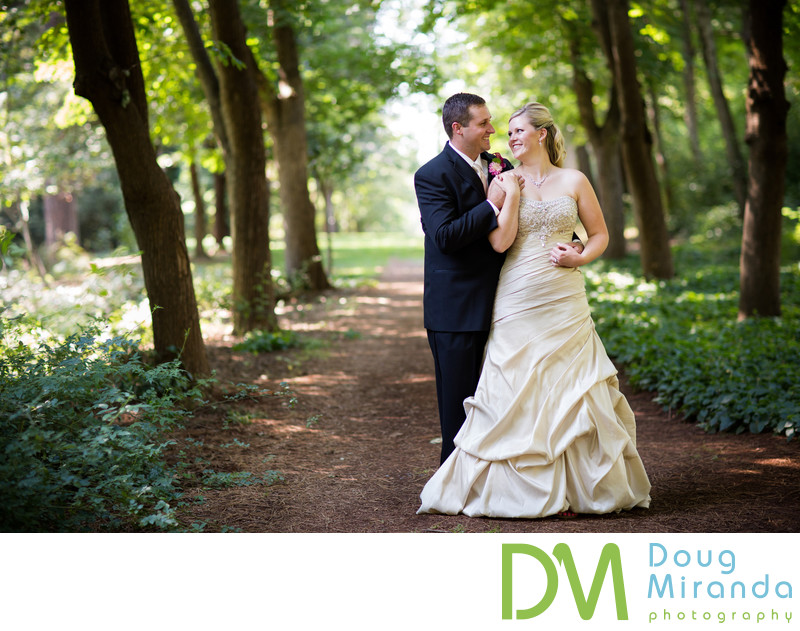 530-273-8522
10791 E Empire St, Grass Valley, CA 95945
Windmill Farm and Vineyard
Windmill Farm and Vineyard is located out in the rolling hills near the city Woodland California. The ceremony and reception cite is located on top of one of those rolling hills. The whole area is surrounded by Olive tree groves and vineyards, which are so romantic to have photos taken at during sunset. The ceremony and reception site is located right next to each other near a rustic looking building. If you're looking for an outdoor venue that has tons of beauty and charm to it then please check out this location.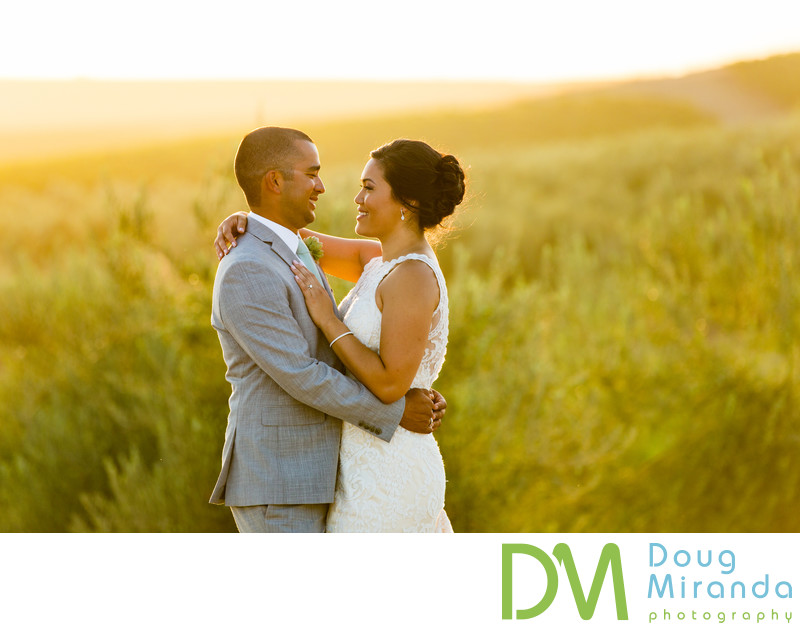 530-309-4730
34254 Co Rd 19, Woodland, CA 95695
Morgan Creek Golf Club
Morgan Creek Golf Club and Event Center is located in Roseville California along a the forested Dry Creek area. Besides being a one of the top golf courses in the local area, they also host wedding and events year around. This elegant wedding venue is for couples who are looking for lush green rolling hills that as beautiful oak tree forest. They have one of the most beautiful indoor Pavilions to host your party in.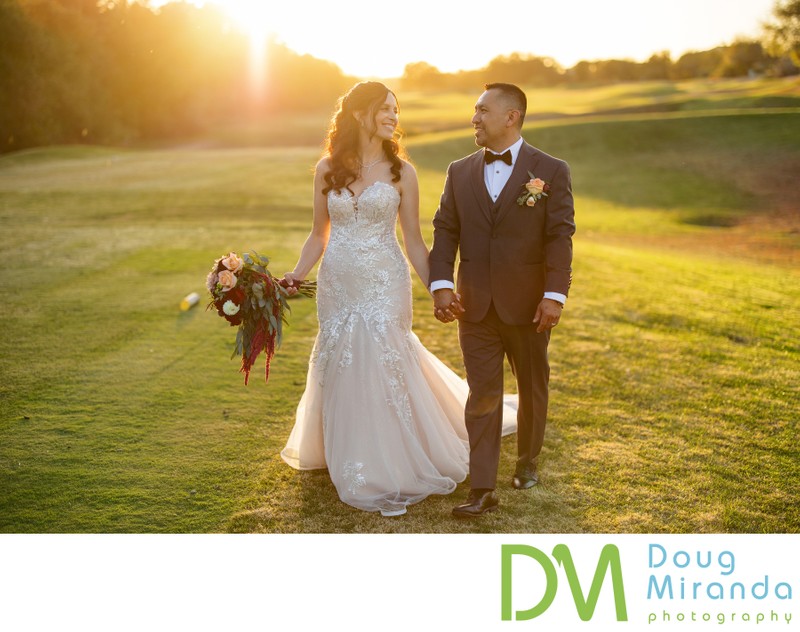 916-780-2582
8791 Morgan Creek Ln, Roseville, CA 95747
Viaggio Estate & Winery
Viaggio Estate and Winery is located in the heart of Lodi wine county in the small community of Acampo California. Viaggio is located on 23 acres of wine vineyards and well manicured gardens with a private estate on the grounds. The Mokelumne River flows through the property, which gives it that natural feel and unique setting to the estate and winery. Viaggio is one of the premier wedding and event locations in the Lodi wine country or if not the greater Sacramento area. There are many locations for your ceremony to take place at on the grounds. Receptions and meals will take place in huge ballroom that is equipped to hold up to 350 guest for your festivities.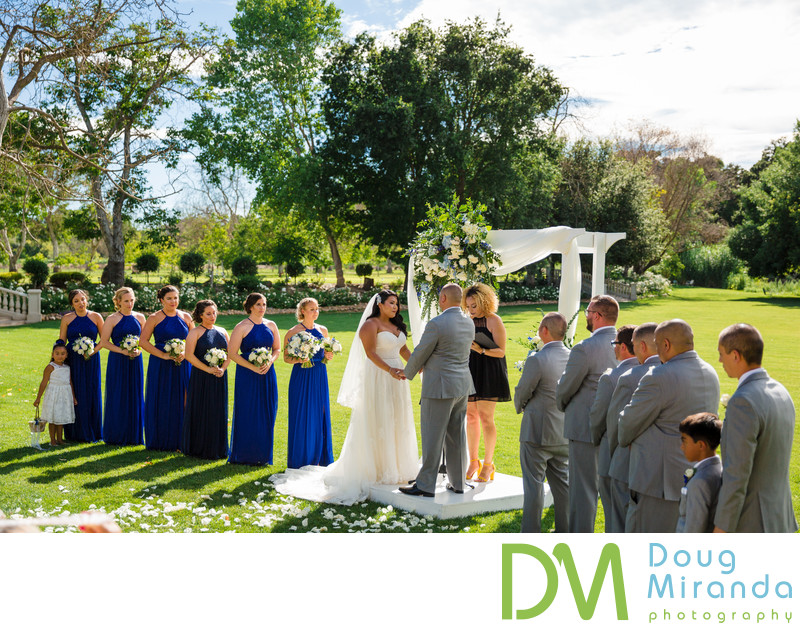 209-368-1378
100 E Taddei Rd, Acampo, CA 95220
Sacramento Masonic Temple
The Sacramento Masonic Temple is located in the heart of downtown Sacramento in an old historical high rise building. This old building has so much character and history to it. Ceremonies and receptions are held in the same grand ballroom that can host up to 499 guest. This massive and stunning ballroom is a blank slate for you to plan and design how your wedding will be. Some couples choose this venue to host their ceremony and reception, while other just use the ballroom to host their wedding reception at. No matter what you choose to do this location in downtown is simply elegant.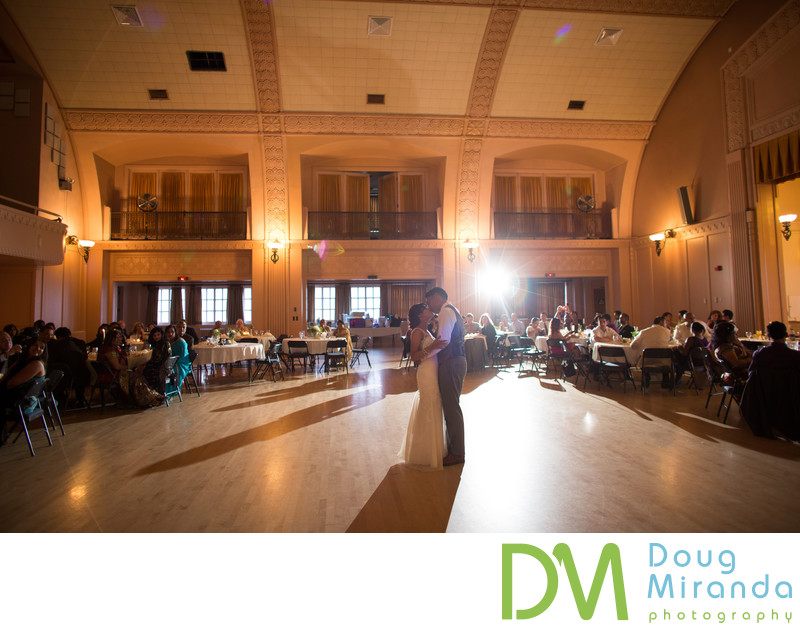 916-443-5058
1123 J St, Sacramento, CA 95814
Monte Verde Inn
Monte Verde Inn is an elegant private estate that host weddings in the Sacramento foothills near the town of Forestill California. This huge estate and surrounding grounds are what wedding dreams are made of. They have options to host ceremonies and receptions outside and are able to hold smaller events indoors too. There is a small vineyard out back that is great for photos. Ceremonies take place under a tall stand of pine trees which give lots of shade for all your guest during your vows. The outdoor reception area is close by and behind the estate. They also have a long elegant tree lined driveway leading up to the house, which is perfect for late afternoon portraits.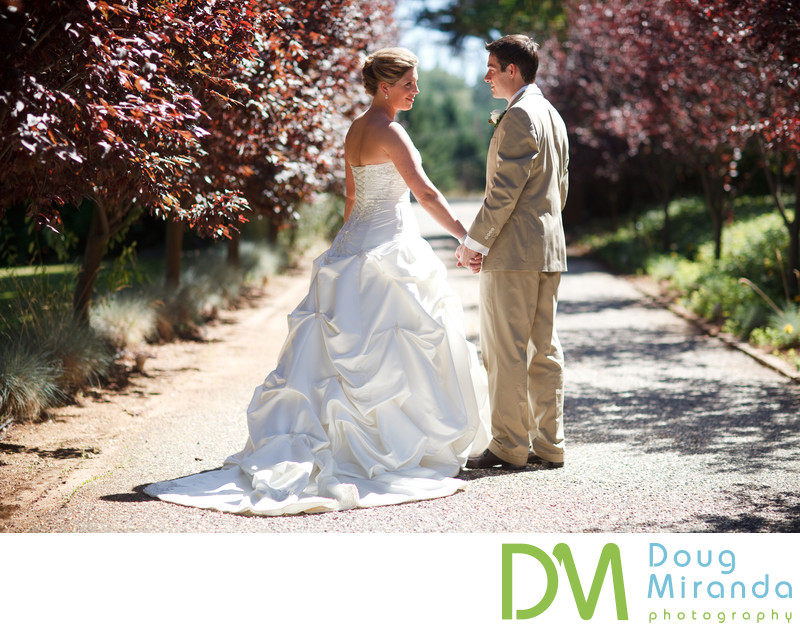 530-888-8123
18841 Foresthill Rd, Foresthill, CA 95631
Durst Winery Wedding
Durst Winery and Estate is stunningly charming wedding and event venue located in the heart of Acampo California's vineyards. This classic estate and wedding venue is surround by immaculately kept up grounds and has a restored historical house dating back to the 1800's. Unlike other winery wedding venues in the Acampo and Lodi area Durst has a more classic old time feel to it. Once you take a site visit here and see the tree lined driveway, along with the huge white estate you'll see way this venue sets itself apart from the rest.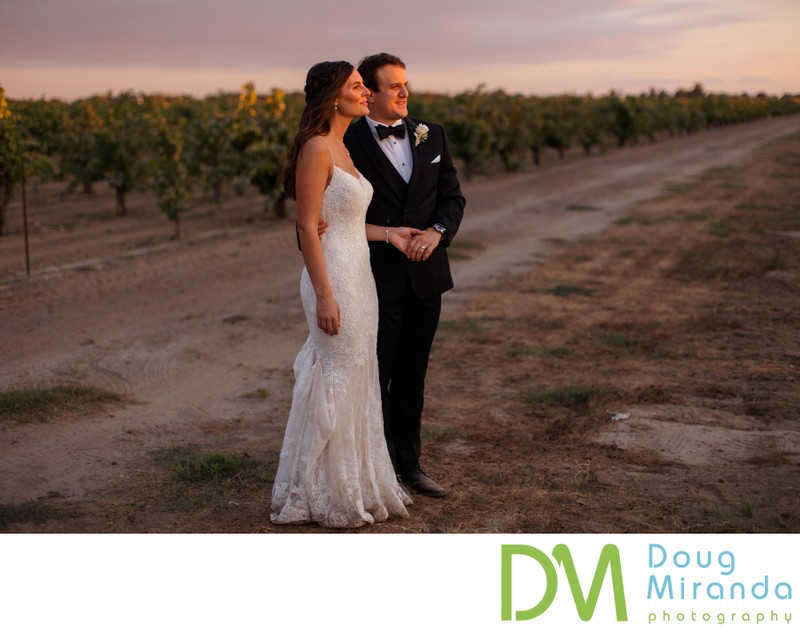 209-601-1413
10173 Acampo Rd, Acampo, CA 95220
Delta King Hotel
The Delta King Hotel is located right on the waterfront in Old Sacramento. The Delta King is the only waterfront wedding and event center in all of Sacramento. This huge and historical river boat is floating on the water of the Sacramento River, which makes it such a unique venue location for special events. Wedding ceremonies can take place outside or inside the riverboat. The outside ceremonies take place on the lower dock right next the the boat and on the water with views of the Sacramento River. Ceremonies can also take place inside the boat in one of the many large banquet rooms on board. Inside the boat is where your reception, dinner and dancing will take place on your wedding day.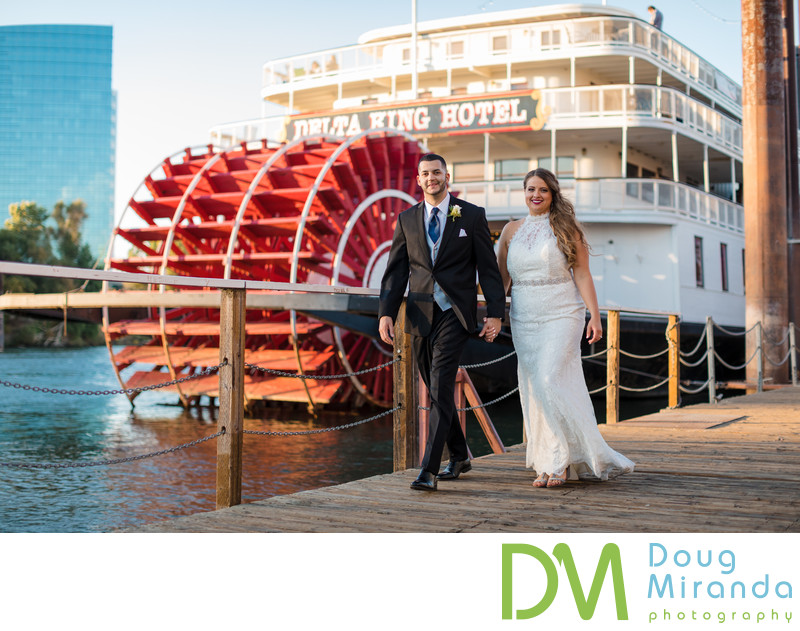 916-444-5464
1000 Front St, Sacramento, CA 95814
Union Brick by Wedgewood Weddings
Union Brick by Wedgewood Weddings is located in the city of Roseville. This event center is a perfect all in one site for a couple who wants everything in one spot. They also offer tons of in house services, which makes wedding planning that much easier. Ceremonies take place out back in their courtyard. The back drop has a water fall and covered area for the couple to be married under. The grand ballroom is huge and can host up to 250 guest. Some couples choose to host their ceremony and reception here, while other use this venue to just host their reception. They are also able to host weddings year around by being able to have ceremonies inside too when the weather is unsettled.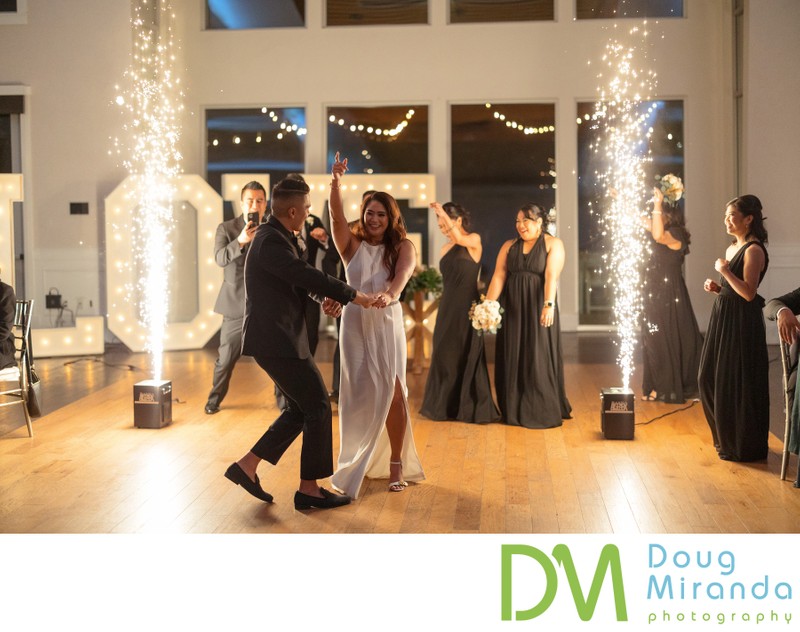 916-665-0430
240 Conference Center Dr, Roseville, CA 95678
If you are interested in having me photograph your wedding day please fill out the contract form on this website. You can also email me directly at doug@dougmiranda.com or give me a call at 916-422-2256. I look forward to hearing from you.