Morgan Creek Golf Club and Event Center is located in Roseville California along a the forested Dry Creek area. Besides being a one of the top golf courses in the local area, they also host wedding and events year around. This elegant wedding venue is for couples who are looking for lush green rolling hills that as beautiful oak tree forest. They have one of the most beautiful indoor Pavilions to host your party in.
Morgan Creek offers nice sized suites for brides and grooms to get ready in, which a great for your wedding day. When you're able to get ready at your wedding venue you usually have less things that go wrong during the day like leaving your flowers, marriage license and an assortment of other items at your hotel room or getting ready location. By having this option you eliminate lots of these small, but big mishaps. Just like any venue though you also have the option to get ready at local hotels or Airbnb's in the area if you would like to. Once you're finished with the getting ready process it's time to head out for your ceremony, first look or bridal party photos.
The ceremony site at Morgan Creek is situated right next to the 9th green that overlooks one of the many lakes that line the course. The view from the elevated area gives a stunning backdrop for you ceremony and guest to look at during your nuptials. The ceremony area is also tented year around to give your guest and you shelter from the hot summer sun or any incoming storm during those unpredictable fall, winter and spring months. This is a huge plus as many other venues in the area do not offer a plan b for bad weather. The other bonus to having a covered ceremony providing shade so your guest do not melt away during the hot summer months. The ceremony site is also located right next to the massive indoor Grand Pavilion, which is where your cocktail hour and reception will take place at. This a big plus since your guest will only be steps away from enjoying the party right after watching you tie the knot. The Pavilion can also be used for your ceremony during the winter months or when the weather is just too bad outside.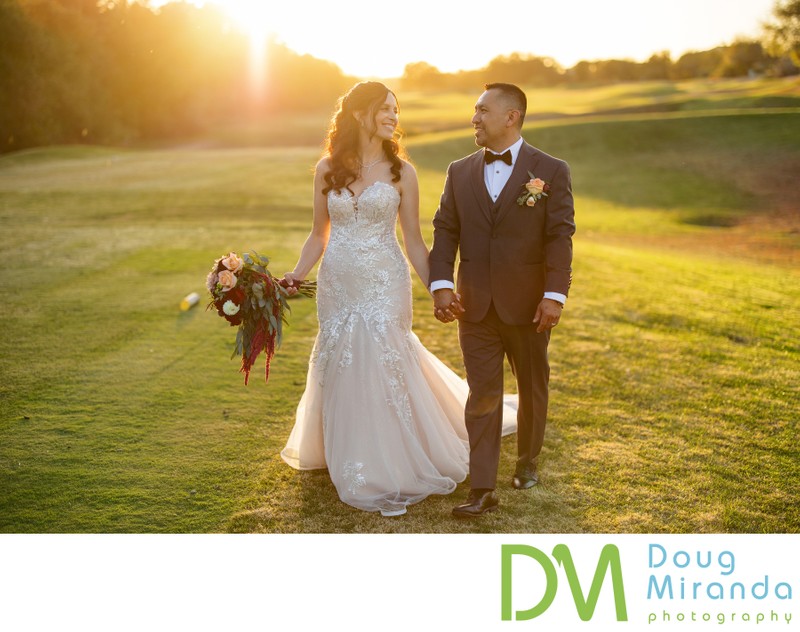 Once your guest are enjoying cocktail hour and getting ready to party the night away. You'll be finishing up your family portraits and bridal party photos near by the Grand Pavilion on the elevated grassy hill that over looks the golf courses and surrounding area. Once those formal photos are finished you'll be able to explore the venue for your couples portraits with your photographer. There are many breathtaking areas for you to have your pictures taken at with having access to the rolling green hills of the golf course and the near by lake at the 9th green. There is also some great oak trees near the Dry Creek area that has the bridge crossing it, which is also another great photo area. This whole area is also set up perfect for sunset as the sun will set behind you in the distance creating some epic pictures on your special day. Once you're finished with your couples portraits you'll head on over to join your guest for your reception.
Receptions and meal service can be hosted at two different locations at Morgan Creek Golf Club. The first one is the stunning and huge Grand Pavilion. This massive ballroom has huge vaulted ceilings, which makes it seem even bigger. The one side of the pavilion had floor to ceiling windows, which lets in tons of natural light and gives you amazing views of the golf course. The one big plus to the pavilion is that it has air conditioning, which is a blessing during those hot summer days. Then in the winter the indoor ballroom will keep your guest and you dry and warm during your celebration. The second location for your reception is located just on the other side of the ceremony site and is the huge outdoor lawn and event area. This reception site is great for couples who want to enjoy the outdoors and not be confined by walls and a roof. This location is perfect for fall weddings when it's still warm out during the evening and you don't have to worry about the wet weather. It's really nice that you'll have two locations to choose from for you dinner and reception events on your special day. No matter what location you pick you'll have an amazing reception.
Morgan Creek is one of the best local golf clubs to host your wedding or event at in the Roseville or greater Sacramento area. If you're a newly engaged couple who is looking to host their special day a venue like this then I would put this location on the top of your list to make a site visit at.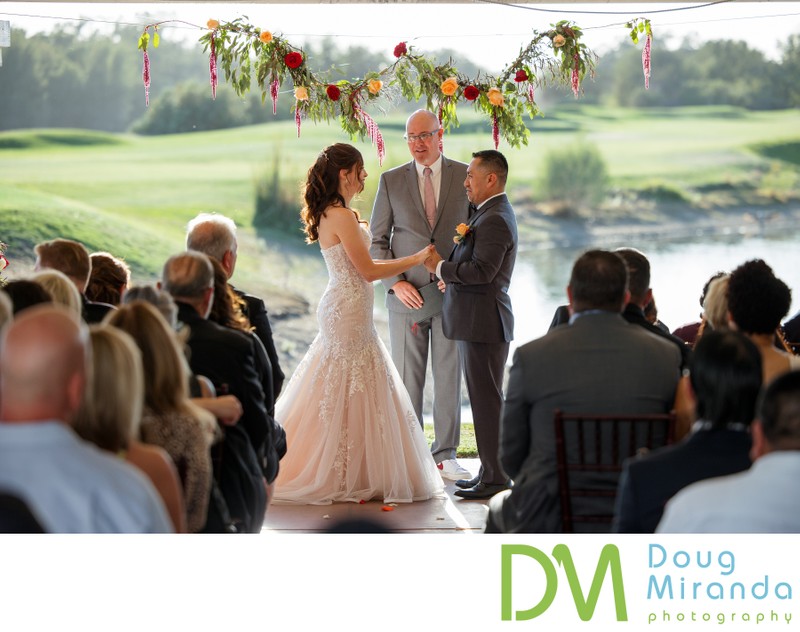 Here are my top two reasons you should host your wedding at Morgan Creek Golf Club.
My number one reason is the beauty of the surrounding golf course, which runs right up to the ceremony site and grand pavilion. This beauty provides a wonderful backdrop for your photos and guest to enjoy on your special day.
The second reason you should host your wedding here is the stunning Grand Pavilion. This reception ballroom is perfect for large celebrations year around, which comes large vaulted ceilings and windows with a view.
Here's a list of services that they offer for each event.
The venue can accommodate up to 300 guest.
Can host indoor and outdoor wedding ceremonies.
Receptions can take place in the indoors and outdoors.
Getting ready suites for bride and groom.
Event planning for every wedding.
Rehearsal prior to your event.
In house bar with beverages for guest.
In house catering for appetizers and dinner services.
Glassware and flatware.
Dance floor
Set up and clean up of your event.
Chairs and liens for ceremony and reception.
On site large parking lot for guest.
Handicap Accessible.
If you are interested in having Doug Miranda Photography photograph your wedding day please fill out the contract form on this website. You can also email me directly at doug@dougmiranda.com or give me a call at 916-422-2256. I look forward to hearing from you.