Catta Verdera Country Club is located near the Sacramento foothills in the city of Lincoln California. This luxurious country club is situated on 335 acres of the rolling foothills. Weddings and events take place at the country club's golf course club house. The club house was built with a Spanish style mission in mind and would fit in architecturally with the rest of the California missions. With its huge steeple and arch filled outdoor hallways. This club house is very unique to the greater Sacramento area and there is nothing quite like it in the local area. The grounds that surround the club house are kept up immaculately, which makes this venue more appealing to couples who want to host their special day here.
One of the bonuses of hosting your event here is you'll have access to getting ready rooms for the couple. The getting ready building is just up the road from the clubhouse, which is a quick one minute golf cart ride or just a short walk up the hill. The bigger grand getting ready room is reserved for the bride and her bridesmaids to get ready in. This room is massive compared to other venues bridal suites. It seem more like half a house compared to a suite. Just next door is another building where the groom and his groomsmen get ready at. This room is more realistic to a getting ready suite that most venues offer in the area. Just outside of the these two getting ready suites is a green lawn that is surround by oak trees and gives you an elevated view of the golf course. This outside area is prefect spot for first looks, bridal party and family photos. It's also a perfect area for some couples portraits too. When everyone is finished getting ready it's time to head over to the ceremony location.
The outdoor ceremony site is located just a short walk up the hill from the club house, which insures a private area that is away from all golfers that might interrupt your nuptials. This ceremony location is situated on a lush lawn that is surround by an oak tree forest, which overlooks the 18th hole of the golf course. This open forested area is a perfect spot for couples to recite their vows and tie the knot in front of all their family and friends. This location is also perfect for family and bridal party photos after the ceremony is over. Catta Verdera is also able to host indoor ceremonies if need. If it does decide to rain or be bad weather on your day you will have the option to have your ceremony inside the reception room at the club house. I understand that no couple wants to have inclement weather on their special day, but it's nice knowing that you'll have a back up plan. Once your ceremony is over your guest will enjoy cocktail hour back down at the club house, while you finish up with family and bridal party photos.
Catta Verdera is located in such a beautiful area of the foothills and is surround by the lush golf course, which is surrounded by oak tree forest. This will give your wedding photographer plenty of options to capture your couples portraits around the grounds. One of the nice areas for portraits is just by the ceremony site. This area is surrounded by oak trees, which gives you that classic Northern California foothill look to your photographs. The wonderful staff will also be able to drive you around in a golf cart to a couple areas around the course to have your photographs take at. There are some very cool old stone bridges that they can drive you to. The final and best area to have your portraits taken at is around grand Spanish style looking club house. There are so many beautiful spots around this building, including the arched outdoor hallways, the center water fountain and the front walk way entrance to the building. Once you're finished with your portraits you'll be able to head on over to your reception for the rest of the evening.
Dinner serve, receptions and dancing will take place in the Casa Algeria dinning room, which is located in the main clubhouse. The dinning room will remind you of an old grand Spanish style room with its off white stucco walls, arched doorways and windows. It also has huge vaulted ceiling with exposed wooden beams that gives it that old world feeling. There are a couple massive chandeliers that hang above the room to give you that romantic feel to your dinner party. The far wall is adorn with a huge fireplace that takes center stage and is one of the builtin centerpieces of the ballroom. The dinning room can hold up to about 180 guest comfortably. The one big bonus of holding your reception here is the amazing in-house catering that is top notch compared to other venues in the greater Sacramento area. Once all the formalities are finished for the evening you'll finally be able to cut loose and party with your guest out on the dance floor or sip on a cocktail while catching up with old friends.
Catta Verdera Country Club is not your typical golf course wedding venue that you'll find in the local area. It definitely out shines others and makes you feel that you're not even near a golf course. Do yourself a favor and please take a site visit of this elegant venue. You'll be glad that you did and realize once you see it why so many couples choose to get married here.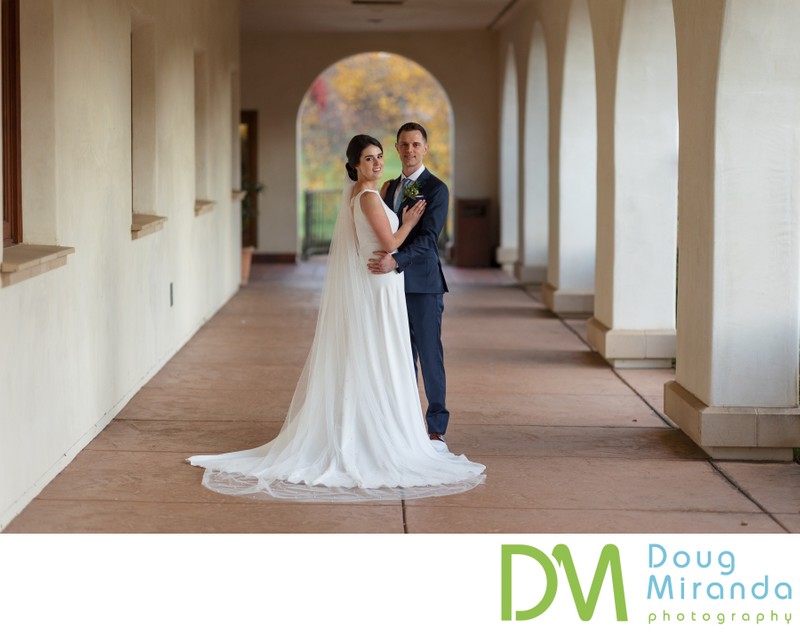 Here are my top two reasons why you should host your wedding at Catta Verdera Country Club.
My number one reason you should host your wedding events at Catta Verdera is the the unique and one of a kind architectural design of the club house that creates the pure beauty of this property. There is no other venue in the Sacramento area that looks like this. Besides this the ceremony site is also perfect and impressive area to recite your vows at to your loved one.
The second reason why you should hold your wedding here is the top notch service that the staff provides for you through out the process of planning your wedding from booking the venue to the day of your wedding. They will make sure that everything will run as smooth as possible. To top that off the in house catering team makes some of the most delectable food for your guest and you to feast on during your reception.
Here's a list of unique services that Catta Verdera Country Club offers for weddings and events.
Outdoor and indoor ceremony locations.
Indoor reception site.
Bridal Suite.
Groom Suite.
Up to 180 guests capacity limit.
Dinnerware, flatware and glassware.
Reception tables, chairs and lines.
Wedding planning.
Ceremony chairs.
Full setup and clean up service.
Full bar set up and bartender.
Catering for meals.
Handicap Accessible.
If you are interested in having me photograph your wedding day please fill out the contract form on this website. You can also email me directly at doug@dougmiranda.com or give me a call at 916-422-2256. I look forward to hearing from you.