The Century is a wedding and event center located in downtown Modesto, California. This venue is geared towards newly engaged couples that are looking for more of a modern and urban feel to their special day. The Century is located in an old historic building that was established back in the early 1900's as a theater that later burnt down. The building was rebuilt to what you see today with its vintage exposed brick walls and high ceilings that are decorated with chandeliers.
The Century event center offers a bridal suite and grooms lounge area, which are perfect areas for the getting ready part of your day or can be used as a staging area before your ceremony. The bridal suite area is a great location for the bride and her bridesmaids to get ready in. It comes equipped with a private bathroom and a giant vanity wall which is great for hair and makeup. The grooms lounge also has plenty of room for the guys to get ready at and hang out before the start of the ceremony. When the getting ready part of the day is over you'll be heading out to get lined up for the start of the nuptials.
Ceremonies take place out in the mall ballroom at The Century under all the hanging chandeliers and against a giant brick wall. This exposed brick wall is also decorated with hanging twinkle lights that help create more of a romantic ambience and gives the room a warm inviting feeling. For ceremonies this room is able to hold up to 175 guest. Besides this room smaller ceremonies can take place next door at the Nine3One building in The Alcove. The Alcove is also decorated with hanging chandeliers and brick walls that have hanging twinkle lights on them. This ceremony area is a great location for small micro wedding ceremonies. This Modesto wedding venue has plenty of options for all sizes of wedding ceremonies and events.
Receptions are held in the main ballroom where the ceremonies take place at. Depending on the size of your event part of the ballroom might have to be adjusted to accommodate more dinner tables and chairs in the area where the ceremony just took place at. During this time your guest and you will be able to enjoy cocktail hour before the start of your dinner and reception events for the night. The Century can hold up to 175 guest when your ceremony and reception is taking place there, but if you're only have a reception here it can accommodate up to 250 guest. Next door at Nine3One the Alcove can also hold small receptions besides ceremonies. The receptions at the Alcove take place just outside the ceremony room in the covered breezeway that creates an indoor/outdoor environment. This covered breezeway area has lots of natural light coming through the giant skylights above giving you that outdoor dinning feel to this reception area. No matter the size of your wedding reception this venue will have you covered for all of your events.
Let's talk about all the photographic opportunities you have when you host your wedding at The Century in downtown Modesto. First you have the venue itself, which has so much personality with the exposed brick walls, chandeliers and twinkle lights. There is also the open breezeway next door at The Alcove and Nine3One. Even the front of this old historical building lends itself as a great back drop for wedding photos. Other photo opportunities abound in the surrounding area. Just across the street is an ally way that is decorated with a handful of beautiful wall murals. About a block away is the side of Stuarts Steakhouse that has a great pattern that surrounds the building. Then across the street is the Gallo Center that has lots of potential for photos. There is also the Old Post Office and many other locations that are hidden in the downtown area, which make perfect backdrops for bridal party and couple's portraits.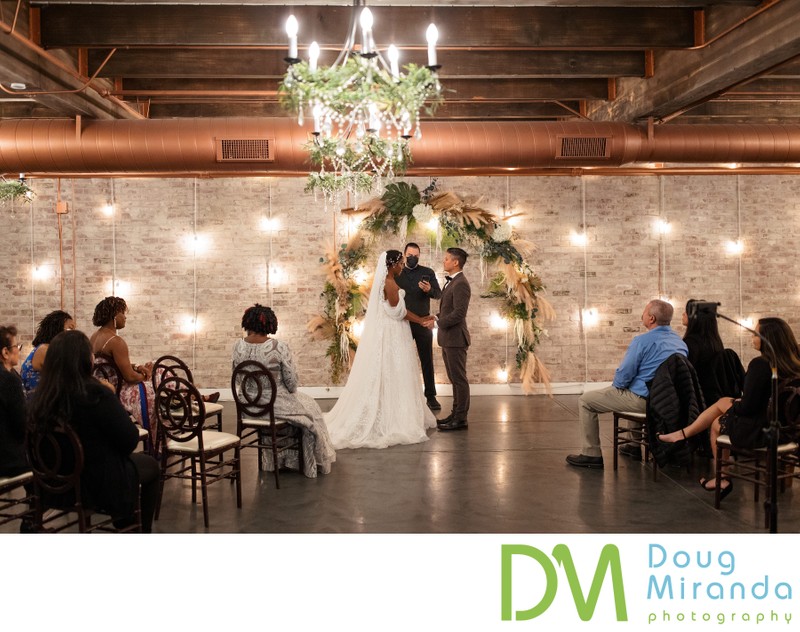 The Century is a top notch wedding venue in the Modesto area and should be at the top of your list if you're looking for a location that has more of an urban feel with that extra dash of class.
Here are my top two reasons why you should host your wedding at The Century in downtown Modesto.
My number one reason you should host your wedding here is the pure beauty and elegance makes this event center what it is. This venue is decorated amazingly beautiful and needs little work to no work to make it that special place for your big day. This event center is one of the best looking venues in the downtown area.
The second reason you should host your wedding day here is the all inclusive service and amenities you'll receive. They have it all here from chairs, tables, silverware and to onsite catering. There's not too many vendors you have to hire once you book this site. This makes the planning part of the process all that much more easier for the couple and a lot less stressful.
These are just of a few reason why you should host your event at this special location. I would highly recommend putting this site on the top of wedding venues to take a site visit at. Please do yourself a favor and contact them now for a visit with one of their coordinators.
Here's a list of unique services that The Century offers for every wedding and event that they host.
Indoor reception site.
Indoor ceremony site.
Bridal suite.
Groom's lounge.
Up to 175 guests capacity limit for a ceremony and reception.
Up to 250 guests capacity limit for a reception.
Dinnerware, flatware and glassware.
Reception tables and chairs.
Day of wedding coordination.
Ceremony chairs.
Full setup and clean up service.
Full bar set up and bartender.
Catering for meals.
Lighting and sound.
Handicap Accessible.
If you are interested in having Doug Miranda Photography photograph your wedding day please fill out the contract form on this website. You can also email me directly at doug@dougmiranda.com or give me a call at 916-422-2256. I look forward to hearing from you.